Faces Of The Frontline
Vicky Virgen Leads As Demands Rise
---
BY James DeGraff, Associate Editor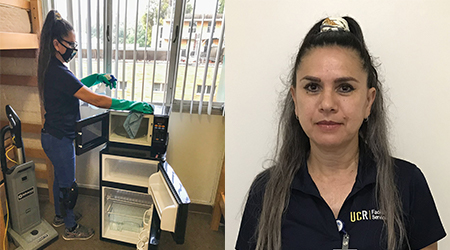 Many employees across the country have been able to shift their workdays to the safe confines of their homes for the foreseeable future. For frontline custodians, however, being an essential employee nullifies this option. Feelings of apprehension would be understandable, especially for those working in the healthcare facilities where the presence of COVID-19 can be inevitable.
For short stretches of time, any custodian can give their maximum effort, support coworkers and bring a positive attitude to work. Doing so day-in and day-out for over 13 years, however, is what has made Maria "Vicky" Virgen a standout employee for University of California, Riverside, and a beacon of reliability for the facility services department. In particular, Virgen's meticulous approach to jobs and eagerness to learn new equipment lead to a quality of work that both fellow custodians and building residents have come to notice.
"When you enter her work area, you notice her attention to detail," says Aaron Uresti, assistant director of custodial and housekeeping services at UC Riverside. "The floors, walls, baseboards, high and low dusting in her building is always very clean, and her restrooms are always spotless."
While the COVID-19 pandemic has ramped up expectations for the custodial staff, Virgen hasn't shown the slightest signs of stress — instead serving as a reliable source of guidance for less-experienced teammates. One shining example of her taking charge arose when several hundred residence halls required immediate cleaning to accommodate the consolidation of students on campus. Under Virgen's leadership, the custodial crew completed the detailed cleaning of desks, closets, beds and chairs, both efficiently and thoroughly.
"She planned and organized a systematic approach to cleaning those areas and even completed 70 rooms by herself," says Uresti. "Vicky will always reach out to help coworkers in need, as well, staying with them until the work is finished."
The powerful relationships Virgen has cultivated with her supervisor and fellow staff members extends to building residents. A tunnel-vision approach to the workday has never been her style, as exemplified by the letters of gratitude she regularly receives from occupants she has befriended on campus.
"There have been times when the residents will surprise her by placing balloons in her custodial closet," says Uresti. "When Vicky is out on vacation, the residents always notice her absence and ask where she is."
Each month this section will recognize an outstanding frontline janitor. To nominate a deserving employee, email james.degraff@tradepress.com