Case Study
University Of Tennessee Facilities Rival Pathogens
---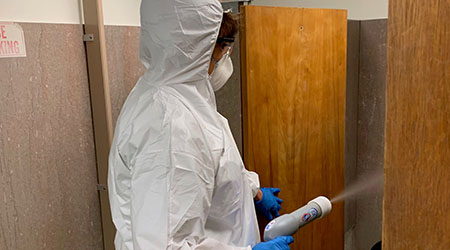 Contributed by CloroxPro
With a proud history of producing professional athletes like Peyton Manning and Justin Gatlin, the University of Tennessee (UT) in Knoxville strives for excellence both on and off the field. Those standards extend to its level of cleanliness — not only within the dorms and academic buildings, but in the athletic training and performance facilities, too.
These facilities are high-touch, high-traffic spaces providing the perfect environment for pathogens to spread quickly. In fact, athletes using these spaces for contact sports are 10 to 15 times more likely to contract Methicillin-resistant Staphylococcus aureus (MRSA) than the general population. But, through effective and efficient cleaning and disinfection protocols, Gordon Nelson Jr., director of facilities services at UT Knoxville, helps keep athletes at the top of their game.
"When COVID-19 hit, I found that many university staff members weren't aware of our standard pre-pandemic cleaning and disinfecting protocols. Before any additional supplies were purchased, we gathered together and mapped out how our facilities were currently being cleaned," says Nelson. "With this information in mind, we were able to determine which spaces needed additional disinfection, then consulted with experts on purchasing the right products for the right space."
While SARS-CoV-2 — the virus that causes COVID-19 — is not primarily spread via surfaces, the pandemic has elevated the importance of cleaning and disinfecting to prevent the spread of germs that can cause illness across campus. Nelson's team pairs manual cleaning and disinfecting with the Clorox Total 360 System, an electrostatic applicator that charges the disinfectant solution so it is attracted to surfaces with a force stronger than gravity upon exiting the nozzle to provide comprehensive surface coverage. The UT team uses the system in a variety of areas, from classrooms and stairwells to training spaces and locker rooms.
"In my opinion, our CloroxPro products are our best secret weapon in keeping our players healthy off the field so they're ready for whatever challenges they face on the field," adds Nelson.
To guarantee that, the UT staff has been trained on the latest Centers for Disease Control and Prevention (CDC) disinfection guidelines and proper use of the Clorox Total 360 System.
"By training our staff about the differences between cleaning, disinfecting and sanitizing a space, we've been able to maximize our efforts and maintain a cleaner and safer environment across all of our facilities," says Nelson.
Although changes to UT's cleaning and disinfection protocols were prompted by the COVID-19 pandemic, Nelson and his staff plan to continue updating their protocols on an ongoing basis. This will help them get ahead of the next outbreak and the upcoming cold and flu season.
"From preparing the dorms for students this fall to disinfecting our sporting arenas after our spring sports games, we're remaining diligent to make sure all areas are cleaned and disinfected properly to help prevent the spread of germs that can cause illness," adds Nelson.