Benefiting From Green Cleaning
UW-Madison Finds Success Cleaning With Ozone
---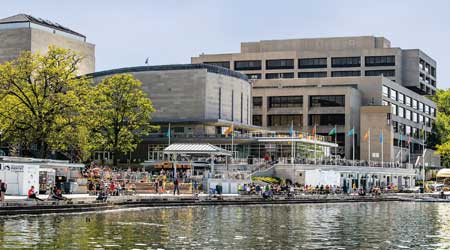 How making one small change has impacted the cleaning program at University of Wisconsin–Madison

In 2012, the University of Wisconsin – Madison (UW-Madison) Division of Housing made the decision to implement a new cleaning product throughout the 27 buildings that comprise the residence halls on campus. Instead of continuing to use traditional chemicals such as window cleaner, disinfectant and a general purpose cleaner, the switch was made to cleaning the facilities with one water-based cleaning product.

The addition of this ozone technology to our cleaning program has had a tremendous and positive impact on the university. For example, the health of staff, residents and guests has improved, and the department's chemical, equipment, storage, transportation and disposal costs have all decreased. There has also been an increase in awareness of sustainable cleaning, and a renewed enthusiasm to improving in this area. Finally, we've seen increased commitment to the education and advancement of green cleaning in other facilities on campus.


Promoting Health
The health and safety of the staff, residents and guests has always been a priority for UW-Madison's cleaning program. With the implementation of a different cleaning product, we have seen a dramatic decline in the negative physical reactions that our staff experience on the job.

Previously, using traditional chemicals as part of the daily cleaning duties, staff reported mild to moderate negative reactions such as rashes, irritations or breathing difficulties. Since we began using the stabilized aqueous ozone cleaning product, we have had no complaints of these issues.

Residents, too, share in the benefits of the change to a healthier environment. Occupants have told us they appreciate that the odor of chemicals is no longer present in their living environment. There is no longer residue left behind on surfaces such as desks, tables and carpets. Surfaces are cleaned more thoroughly, and fewer contaminants are present after cleaning staffs go through, which leads to decreased spread of bacteria and other harmful germs.


Reducing Costs
The cost of cleaning programs is a concern for every facility cleaning manager. Trying to maintain budgets with increased costs in transportation, disposal and the products themselves is a balancing act for any program.

Like many facilities, UW-Madison has seen financial benefits to consolidating cleaning chemicals. Within UW-Madison Housing, the savings of the chemical spend alone has averaged $25,000 per year since the water-based cleaning product was introduced. In addition, the number of products in our storage areas has decreased, leaving us more space.

We've also seen a decrease in the cost of product disposal — the water-based cleaning product can be poured safely down a sink drain and there are no plastic bottles to dispose of. Likewise, we see a decrease in transportation occurring on campus as we no longer need regular scheduled deliveries of traditional chemicals.

By minimizing chemicals on campus, UW-Madison Housing has also experienced fewer mechanical issues with equipment, as well as longer-lasting finishes throughout residence halls. Equipment such as carpet extractors and autoscrubbers are subject to less chemical build-up with a water-based product, which extends machine life and creates efficiencies. This also means less residual build-up of chemicals in the carpeting, left behind from the cleaning process.

Finishes on hard surfaces are also lasting longer. Chemicals used previously had contributed to fading colors and lingering residue. That's no longer the case with the use of water-based cleaning products.
Photo (above) courtesy of Board of Regents of the University of Wisconsins System
next page of this article:
Positives To Implementing Green Cleaning
---