Reducing Worker Injuries
Trim On-The-Job Accidents
---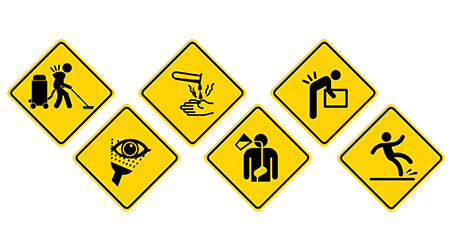 Lulu Carillo, a cleaning worker at a hospital in Redmond, Washington, testified that her employer encouraged her to skip breaks at work so she could clean more. It did not surprise her when she received the diagnosis that she had a hernia that would require a $70,000 surgery.
Lulu's story is not uncommon among the estimated 2.5 million documented cleaning workers in the United States. Janitors and custodians have among the highest injuries of any occupation, ranking just behind truck drivers and warehouse workers, according to the U.S. Bureau of Labor Statistics (BLS).
While the injuries aren't often deadly, they can leave workers with chronic pain issues that impact their livelihood and ability to work for years to come.
It should come as no surprise that the most common injuries are based on the nature of the work. The BLS lists overexertion as the most common injury to janitorial workers (38 percent), followed by falls, slips and trips (28 percent), and object and equipment contact (22 percent).
That doesn't even cover injuries related to chemical handling and exposure.
With such staggering numbers, researchers and oversight agencies are starting to take note. Early last year, the Division of Occupational Safety and Health Administration in California (Cal/OSHA) adopted a regulation that requires hotels to protect employees by addressing musculoskeletal injuries.
In Washington State, Senate Bill 6227 was introduced, requiring the Department of Labor to study workplace injuries suffered by commercial janitors and to study the impact of workloading, training and tools to identify best practices.
Employment of janitors and facility cleaners is projected to grow 7 percent between 2018 and 2028, according to the BLS — faster than the average for all other occupations. Inevitably, the legislation aimed to protect cleaning workers on the West Coast will start appearing in other parts of the country, if not at a federal level.
But a progressive organization won't wait for legislation to start making changes. As anyone who has worked to improve safety within their organization knows, the benefits go well beyond saving money and reducing injuries. A few simple changes can have a big impact on workplace culture, improving attitudes.
next page of this article:
Prevent Common Custodial Injuries