Looking Ahead
Tips For Employee Succession Plans
---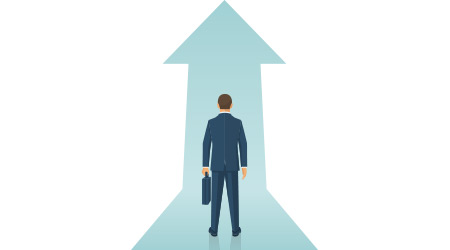 Over the next decade, approximately half of the current U.S. workforce is expected to retire. Of those retiring, 60 percent will do so within the next 5 to 7 years. Most of these workers carry significant institutional knowledge learned from being on the job daily and solving problems unique to their place of work. Younger generations of workers look to these more experienced colleagues in times of difficulty in hopes to learn how to improve their own performance.
Do you know how to keep from losing that knowledge and the value it provides? Have you identified qualified employees who could step into new roles and fill the void? Do you have a plan?
Knowledge and productivity loss stemming from retirement are common, but avoidable, issues. An understanding of succession planning puts your team in a position to move forward without difficulty.
Succession planning is a process whereby certain actions are taken to proactively prepare managers for the exit of key employees, typically experienced through retirement. It is multi-faceted and the more time you allow to work through the process, the better the outcome will be.
For years, the plant services department at Virginia-based Newport News Public Schools (NNPS) has implemented a robust succession planning program. NNPS is a large urban school district with approximately 29,000 students, served across 47 schools. The plant services department is comprised of 350 maintenance, custodial, construction, environmental health and safety, and energy management personnel.
A significant proportion of plant services management personnel are of the baby boomer generation, many of which are on the cusp of retirement. Since the long-time department executive director was among those retiring, recent steps were taken to ensure minimal loss of knowledge and a smooth transition to new leadership.
An Ongoing Program
To be done properly, succession planning must be an ongoing process that occurs over many years and places employee training at the center. NNPS has employed a strong training ethic, utilizing a full-time custodial trainer and devoting multiple budget lines to ensure training occurs at the managerial and frontline levels without expense to the employee. In addition to formal training efforts, participation in professional trade organizations, trade shows, vendor training, out-of-town training and on-line resources are also encouraged.
From the time a new employee joins the NNPS plant services team, they are exposed to different training opportunities specific to their position. This includes job shadowing, which can be as simple as having a new person work side-by-side with a master craftsman until they have a fundamental understanding of the trade.
Supervisors can then build on this experience by assigning tasks outside the employee's normal duties through cross-training. This can be easier to implement for those working at the management level since "other duties as assigned" is a regular part of the job, but with consistency, can be successfully applied for frontline positions.
In the custodial department, there are multiple ways training takes place. Initial training of new employees covers cleaning methods and products, as well as an overview of equipment and instruction on proper use. As the custodial employee progresses, standardized training modules from the Cleaning Management Institute (CMI) are utilized. Each employee can take Basic Training, Advanced Training, and is encouraged to participate in Apprenticeship Training. Eligibility for any promotion is contingent on completion of CMI Advanced Training, and eligibility for promotion into an Area Supervisor position requires further CMI course completion.
NNPS believes paying for their employees to grow professionally acts as an incentive to boost performance and reduce employee attrition. This is of particular importance for employees in lower-wage positions who would otherwise be unable to afford their own training. Often, NNPS offers overtime pay to cover the training time and prevent any impact to daily routines.
Several years ago, NNPS developed a state-sanctioned apprenticeship program to boost leadership development. The program follows a rigorous two-year curriculum, utilizing local teachers from the school district, community colleges and professional content experts. Lesson plans are approved by the Virginia State Department of Professional and Occupational Registration (DPOR) and focus beyond custodial instruction. Courses such as basic math, basic english, computer and technology, communications, team building, and environmental health and safety are taught alongside custodial training such as green cleaning, floor care, cleaning chemistry and restroom cleaning.
Each year of the program, students complete 144 hours of classroom instruction and 1,800 hours of applied work experience. Students are tested in each course and results are sent to the state. For each year completed NNPS gives the employee a 3.5 percent raise, in addition to any district-wide raises provided for all employees.
Upon program graduation, the state issues each student an official certificate of apprenticeship. These certificates are handed out at a ceremony conducted during a school board meeting and includes local press and television coverage. The program is often the first time these employees have received formal education since high school, and the ceremony serves to publicly congratulate the student for their hard work and dedication to the school district.
next page of this article:
Transitioning Responsibilities During Training
Disclaimer: Please note that Facebook comments are posted through Facebook and cannot be approved, edited or declined by CleanLink.com. The opinions expressed in Facebook comments do not necessarily reflect those of CleanLink.com or its staff. To find out more about Facebook commenting please read the Conversation Guidelines.