Faces of the Frontline
Tammy Davis Takes Charge On Cleaning Innovation
---
BY James DeGraff, Associate Editor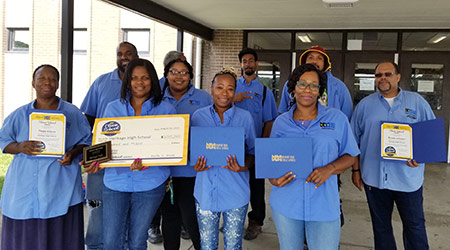 As an icon within the Newport News Public School District for over 25 years, even 2020 can't shake the infectious positivity of Tammy Davis. It's a trait that staff and students thrive off of.
As senior lead custodian, Davis heads an 11-person staff responsible for covering a 255,000-square-foot facility over two shifts. Every principal Davis has worked with at the district has deemed her irreplaceable, and for good reason. Beyond the responsibility of overseeing cleaning tasks that are more critical now than ever before, Davis also leads the efforts on supply shipments and custodial training — always doing so with an optimistic approach.
Her ability to balance these challenges successfully hasn't gone unnoticed. Over her tenure across multiple schools at the district, Davis has won the annual Clean School Contest with her department five times.
"She has even won the award when her schools were under renovation, demonstrating the ability to keep her eye on the task at hand and overcoming or adapting to ever-changing conditions," says Keith Webb, former executive director of plant services for Newport News Public Schools.
Making her presence known beyond primary duties, Davis meets with the school's leadership team on a regular basis to strategize and schedule district events. It's an involvement she takes pride in. It reflects her drive to make a difference for students.
"Tammy figuratively owns her school," says Webb. "She knows many of the almost 1,200 students, greeting them in the halls, offering encouragement and giving advice when she sees the need to do so. She also supports them in their extra-curricular activities and attends events to cheer them on."
An ardent follower of the industry, Davis never misses a moment to further innovate the cleaning department. Her involvement with trade associations has been pivotal to the adoption of new green cleaning technology and procedures at the district.
"Tammy participates in state conferences regularly and is an acknowledged peer leader; with many other lead custodians calling upon her for advice," says Webb. While proud of her accolades and the respect earned by fellow custodial managers, what Davis cherishes most is very simple.
"When I asked her to tell me what her proudest achievement was in her career so far, she said it was ensuring that her building was clean, healthy and safe on a daily basis so that no one had to worry about getting sick on her watch," says Webb. "She also cited her daily interactions with kids and the staff as a daily motivation for her to come to work. Everyone should have a 'Tammy Davis.'"
Each month this section will recognize an outstanding frontline janitor. To nominate a deserving employee, email james.degraff@tradepress.com
Disclaimer: Please note that Facebook comments are posted through Facebook and cannot be approved, edited or declined by CleanLink.com. The opinions expressed in Facebook comments do not necessarily reflect those of CleanLink.com or its staff. To find out more about Facebook commenting please read the Conversation Guidelines.