Assessing Your Sustainable Cleaning Program
Steps To Transitioning To Green Cleaning
---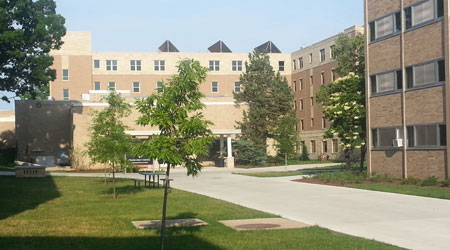 Five steps the University of Wisconsin-Madison's Division of Housing used to transition to green cleaning

Cleaning facilities can often feel routine, especially when you have been in that role for a number of years. Today, however, you cannot overlook the responsibility that custodial staffs and their facility directors have in providing the best possible environment for their customers — and doing so using environmentally friendly products and methods. Whether you maintain educational buildings, office buildings or service buildings, assessing your cleaning program should be done regularly.


At University of Wisconsin-Madison, we take great pride in the vision to move forward. In 2013, the Division of Housing started down a path to implementing change to the cleaning program within the residence halls. The plan was to find a way to clean using healthy and sustainable methods. In doing so, we identified five key components to assessing a cleaning program.
One: Assessment Team
As the title suggests, this is a team activity — no person should assess a cleaning program alone. The team should be comprised of stakeholders at multiple levels.

A team approach can save time and money for departments. It also helps ensure that you are seeing the largest number of aspects of your current program, and capturing the impact potential changes can have on others.

When assessing a possible new product, we recruit a team of custodians, vendors, the director of housekeeping, and several supervisors and managers within housekeeping. We make sure to also include stakeholders from the community, and staff from other departments within the school.

This was the case in our discussion of decreasing use of traditional chemicals. We collected feedback on the interest of "going green," as well as the concerns that stakeholders had in doing so.
Two: Program Parameters
Know the limits that affect your program, as well as the standards that support it. In every facility, there are budgets. Know what your limit is for the supplies and equipment you buy, as well as where the labor costs are and areas of potential savings.

Aside from budgets, what state laws or school district policies could affect your program? For example, does your facility ask that only Green Seal-certified chemicals are used or that equipment meet noise pollution limits? The assessment team will need to answer these questions before creating, implementing or making changes to an existing cleaning program.

Once that step is accomplished, managers are encouraged to research recognized standards for cleaning sustainability. There are several well-respected standards and resources available — Association of Physical Plant Administrators (APPA), ISSA and Green Seal are just a few. Standards such as these can help guide you on what cleaning methods and supplies could work well for your facility.
Three: Program Audit
Auditing your program consists of several steps, including reviews of the following:
• Staff training: How many hours are used in training? How frequently is training done? Who facilitates the training? Is the training comprehensive?
• Cleaning methods: Do you clearly lay out how each cleaning task should be completed?
• Inventory: What chemicals, supplies and equipment are in your inventory? Is the inventory level appropriate for your facility?
• Cost: How much do you spend annually on chemicals, equipment, equipment repairs and supplies?
• Savings: Where are there potential savings for your facility?
• Sustainability: What areas of sustainability are you engaged in or do you want to be engaged in — composting, cleaning methods, purchasing (recycled materials) or recycling programs?

Having an assessment team made up of a variety of stakeholders will better allow you to review and audit these areas successfully. Custodial staff, for example, can best tell you what type of training they have received and how it works for them. Likewise, they can tell you what cleaning methods are used and whether they are consistent. Facility supervisors can share what items are in the current inventory, as well as potential areas of sustainability.

Together, the assessment team would consider and evaluate ideas on more sustainable cleaning opportunities. The discussion should also include potential savings — overall costs and labor — that could occur. Savings are often an overlooked component to sustainable cleaning. New products or equipment may not always cost less, but do they could produce results, and do so in a healthy and sustainable way.

UW-Madison Housing has a Products, Equipment and Testing (PET) Committee made up of custodians, building supervisors and an assistant director in housekeeping. This group evaluates everything necessary to maintaining the buildings, including products used in cleaning to equipment that will provide the best results. They were a natural fit to include in the assessment team.
next page of this article:
Creating A Sustainability Plan
---