Five Steps To Going Green
Steps To Implementing Green Cleaning Programs
---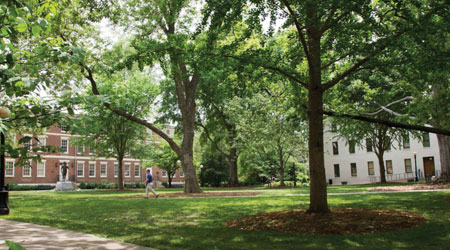 Although successful green cleaning and sustainability programs are now in place, the implementation process took time and effort. There were concerns coming from facility occupants, staff and management during the initial roll-out of the green cleaning pilot program. Questions included, "why should we do this" and "will this cost us more money?"

In response, we clarified that improving occupant and employee health was a primary goal of the green cleaning programs at both organizations.

We sought help from our business partners to improve indoor air quality; learn about ergonomic equipment to reduce repetitive motion injuries of custodial employees; determine better environmental products and services as viable replacements; and provide improved assessment tools to measure our program progress. We also utilized the information listed in Healthy Schools Campaign's "5 Steps to Green Cleaning in Schools," which was instrumental in understanding what conversation topics with cleaning industry partners were invaluable.

Here's an outline of how we implemented those steps.


Prepare And Identify
Step one is all about preparing the school for green cleaning by creating a green team and assessing the current programs. To take an audit of what cleaning tools we were using, staff did assessments of every school custodial closet, mechanical room and cleaning cart. With this information, we utilized our warehouse inventory software and facility checklists to determine quantities of use.

From there, we were able to move on to step two, identifying green cleaning products that meet standards for effectiveness, health and safety. In conversation with our local distribution representatives, we developed replacements that met our requests for environmental third-party certification, low volatile organic compounds (VOC), just-in-time delivery or on-site chemical generation processes. We then developed pilot programs for each product we were interested in using. Older equipment and products were removed from the facility, and staff received training on the pilot program, which included frequent checks to encourage them throughout the change process.

That overall process included communication with our facility stakeholders regarding new products and procedures that were being used, as well as how they can contribute to health. Our business partners shared our vision of what an environmentally sustainable cleaning program meant to our school community, and we discussed the specific needs for each school building, facility floor plans and transportability issues (such as elevators to transport larger machines between levels).
previous page of this article:
Shifting From Green Cleaning To Sustainability
next page of this article:
Introducing Green Products And Processes
Disclaimer: Please note that Facebook comments are posted through Facebook and cannot be approved, edited or declined by CleanLink.com. The opinions expressed in Facebook comments do not necessarily reflect those of CleanLink.com or its staff. To find out more about Facebook commenting please read the Conversation Guidelines.