Ramping Up PPE Protocols
Steps For Implementing PPE
---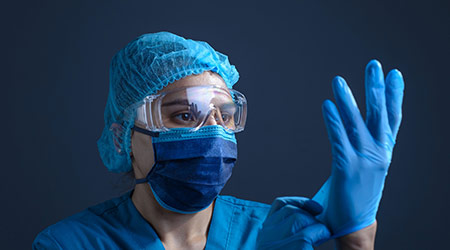 In the wake of the pandemic, attitudes toward personal protective equipment (PPE) have shifted significantly in the cleaning industry. Once treated as optional or an afterthought in many facilities, PPE is now a mandatory barrier for protecting custodial staff, building occupants and visitors.
"With COVID-19, there is certainly an increase in demand for PPE, and people are a lot more sensitive to wearing the right protective equipment," says Jim Sortino, owner, Penn Valley Chemical Co. Inc, Landsdale, Pennsylvania.
At the same time, distributors are voicing their concern as they watch facility executives invest in fogging and spraying equipment for disinfectant applications.
"Unfortunately a lot of people don't understand proper PPE, and now we have broad-based use of disinfectants going on," says Ryan Banks, chief sales officer at Brady Industries, Las Vegas. "That's a huge concern."
Facility cleaning managers should familiarize themselves with safety data sheets (SDS), which outline what PPE is required with chemical use. They should also review the Occupational Safety and Health Administration's (OSHA) PPE and bloodborne pathogens standards. For those needing assistance, distributors serve as a valuable educational resource.
At Penn Valley Chemical Co., discussions about PPE are par for the course during site evaluations.
"When using electrostatic sprayers, I recommend gloves, masks and eye protection, but it's up to customers and what they're comfortable with," says Sortino. "The most important thing is that workers are protected and feel safe."
Assessing The Risk
Prior to outfitting custodians with PPE, facility cleaning managers need to assess the level of risk associated with the environment the staff is cleaning.
"If we don't know what our risk is, how do we know what PPE to wear?" asks David Thompson, director of the Academy of Cleaning Excellence, Orlando, Florida. "We need to ask questions every single day before we go into a built environment."
According to Thompson, most custodians operate in low- or medium-risk environments. Low-risk environments are those in which there are no confirmed pathogenic cases or outbreaks, and custodians have minimal-to-no contact with others. Medium-risk environments are those with a confirmed outbreak, but the infected person is no longer present.
In low-risk environments, gloves, goggles and masks are still the norm for general cleaning and disinfecting.
"We've always promoted the use of PPE — especially hand and eye protection — when cleaning," says Bill McGarvey, director of training and sustainability at Imperial Dade, Jersey City, New Jersey. "That's something we continue to stress."
Distributors recommend over-the-wrist nitrile gloves for all cleaning tasks due to their durability and the fact that they can be worn for prolonged periods of time.
"To say nitrile gloves are too expensive is devaluing our frontline technician's life," says Thompson. "People need to understand that gloves do not protect anyone else but the wearer."
Indeed, once that glove touches something, it becomes contaminated, just like a human hand. As such, reusable gloves should be washed with soap and water between change-outs.
In addition to supplying gloves, managers should equip custodians with eye protection, such as goggles or face shields, particularly for applying disinfectants. For continuous electrostatic spraying applications, Banks recommends an air filtration mask, such as an N95 respirator. For daily cleaning, custodians need a disposable or reusable face mask.
"A mask protect others by preventing cross-contamination," says Banks. "If you talk or sneeze, for instance, a mask will capture particulates coming out of your mouth and prevent it from coming into contact with other surfaces."
Encouraging Compliance
Personal protective equipment shouldn't be a tough sell for facilities during a pandemic. Nevertheless, management may encounter resistance from custodians who eschew wearing masks or gloves.
When dealing with naysayers, distributors encourage housekeeping departments to reinforce the company's PPE protocol and convey the consequences of non-compliance. At best, custodians could lose their job. At worst, they could lose their life.
McGarvey encourages supervisory staff to lead by example.
"Facility managers have to walk the walk," he says. "They need to make sure they're wearing masks properly. If they don't, then why should anyone else?"
But doling out PPE and enforcing its use is not enough. Without proper training, the practice of donning and doffing PPE could, in and of itself, contribute to cross-contamination and place custodians at risk of infection.
"Facility managers should not assume that people know how to use PPE, how to care for it, or how to put it on and remove it," says McGarvey. "We need to return to the basics and make sure people understand what they're doing and why they're doing it."
Thompson concurs: "If we require our frontline workers to put it on, then we must educate them on removing it correctly, or they will potentially infect themselves."
next page of this article:
Protocols That Reduce Cross-Contamination
Disclaimer: Please note that Facebook comments are posted through Facebook and cannot be approved, edited or declined by CleanLink.com. The opinions expressed in Facebook comments do not necessarily reflect those of CleanLink.com or its staff. To find out more about Facebook commenting please read the Conversation Guidelines.