Establishing Staff Engagement
Six Steps To Successful Staff Engagement
---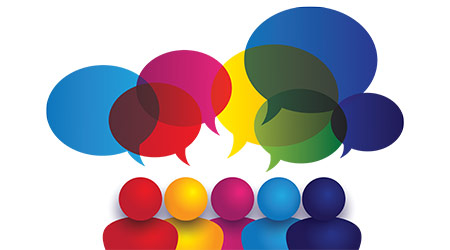 It's a typical work day and there's a two-hour staff meeting planned. A monthly occurrence, it's an opportunity to check in with staff and review any policies that impact our work or any seasonal projects coming up. Staff meetings are a chance to ask questions, share thoughts, see where or how we could improve and celebrate successes. They are also an information session to talk about the goals of the department and/or facility.

Before conveenining, I always ask the audience a single question, "Do you have any questions?" Then it happens… silence. No one has any questions. No one has anything to share. No one has any feedback.

One question that supervisors, managers and leaders consistently ask themselves is, "How do you engage staff?" There isn't one practice or idea that works for every employee, every business type, every leader or even every situation. The true secret to having a staff that is engaged is knowing that it takes practice and multiple approaches to garner engagement.

We've all heard the saying, "People don't quit their jobs, they quit their bosses." Then, it would make sense that the opposite is also true — if you lead with integrity, show empathy, have compassion, inspire your team and are genuine, then you can create a more engaged team. According to a 2018 Gallup Poll, employee engagement is on the rise, so how can we continue to move in that direction? Here are six techniques worth considering.
1. Get To Know Your Staff
Truly getting to know people is not always an easy task. When you have a large number of employees, it becomes increasingly difficult to know each one personally. Start with one thing — their name(s). I make it a point to know the name of every person in the housekeeping department. I also make sure that I know how to pronounce it.

The next step for me is to get to know one thing about each of the staff I directly supervise and interact with on a regular basis. Are they married? Where are they from? What do they like to do outside of work?

Making eye contact and saying hello when you pass someone is being pleasant, but saying good morning, calling someone by their name and showing familiarity shows that you care. I work in a very diverse environment with staff that often speak English as their second language. I have learned a phrase or two (and practice them) in three of the languages that several of the staff speak so that I can say hello, thank you, or ask how they are in their first language — another way to connect.
2. Build Your Staff
I can't think of a job — let alone a career — that doesn't include training. I'm not talking about just training staff on the first day or for the first week, but rather continuous training provided to every staff member.

As leaders, it's up to us to provide our staff with the knowledge and tools that they need in order to succeed in their jobs. Explain why we need them to perform tasks in a certain way, or when there is more flexibility, choose from a number of methods.

Be clear in outlining what the expectations are, as well as the consequences for not meeting them. Plan for retraining on a regular basis. Share the big picture with staff, let them know that we do this because we want a specific result. Tell them the goal — what we want or need to achieve. Give your employees a strong foundation for the tasks they will do and you will raise their level of engagement.
3. Recognize Your Staff
Say "thank you," "nice job," or "you're doing great." For most leaders this is a staple of our communication with staff. If it isn't, it should be. Beyond that though, how do you truly recognize staff?

We hold appreciation luncheons or summer picnics for our staff as a reward and to show appreciation. We also give our staff pins of recognition on anniversaries (5 year, 10 year, 15 year, etc.). To celebrate specific accomplishments, we have a division-wide breakfast for the entire team.

Staff are the supporting structure of every business. Whether a business fails or succeeds depends largely on them.

Recognizing staff in ways that are meaningful to them helps build positive relationships. It helps create a strong, healthy and inclusive workplace, which is crucial to raising staff engagement. As supervisors and managers, we need to continue to find ways to recognize staff and show how much they are appreciated.
4. Develop Your Staff
Help your staff grow both professionally and personally. We want staff to show off their professional skills and abilities, so give them a project to run or a specific task above their regular duties. This will allow them the opportunity to stand out and show the skills they possess.

When one of my staff told me that they didn't want to be a custodian forever, I asked, "What do you want to do?" Then I worked at finding a way to help them get there. For example, we have staff shadow other staff to learn more about the area that interests them — from maintenance, electrical work, upholstery work or human resources.

Leaders should encourage personal growth, as well. We offer English language classes and tuition reimbursement to our staff. We strive to build a work environment that stresses the importance of teamwork, team building and goal accomplishment — learning from each other and gaining an understanding and respect for those that are different from ourselves. Helping a staff member grow in personal areas will give them more self-confidence and assurance that can help motivate and keep them engaged.
5. Learn From Your Staff
Leaders don't know everything — it's one of the great things about being a leader, in my opinion. I have the role of a leader, but the privilege of learning from those that I supervise every day.

Listen to and act on feedback that staff gives you. Feedback is a requirement for an engaged workforce. We take part in providing surveys to our staff in order to collect feedback about their work, their supervisors and their work environment.

We have monthly meetings with all staff, and there are "Town Hall" meetings within our organization. Staff are more likely to have and maintain engagement when they know that management cares and listens. Of course, listening isn't the only key — you have to act, as well. Follow up on the feedback you receive from staff. I look to staff as much as I look to supervisors or other managers to provide me the next great idea or the approach that is going to be more effective, more efficient or just plain better.
6. Support Your Staff
I firmly believe that one of the best ways to engage staff is by supporting them. Allow staff to make choices whenever possible. It's a great feeling not to have to wait for permission, but rather to have the knowledge that you have options. Likewise, allow staff to help in the decision-making process.

We have a committee comprised of our frontline staff that helps determine what products we use to clean our facilities. Understand that with options and decision making, mistakes will be made. It's to be expected and you need to show that it's okay. Running an operation or business where employees are punished for mistakes or for making a wrong choice guaranties that staff will become disengaged. Make sure you are supporting staff and the authority that you have given them.

Staff engagement is not easy to achieve. It requires understanding what your staff wants and what they consider to be engagement. It requires that we as supervisors and managers continue to reflect on what we have done and what we are going to do next. It also requires a team effort.

A leader can create a positive work environment, be caring and reflective, and understand that staff are our customers, too. However, the staff also needs to put in some effort to achieve engagement. Individuals need to provide (or be willing to provide) feedback, be willing to be coached or led by their supervisor and make the choice to be a part of the team.

Staff engagement at all levels is critical to the success of any operation or business. Research shows that an engaged staff is likely to provide exceptional customer service. As supervisors, managers and leaders, we should recognize that our biggest asset is the staff that works with us.

Jodi Krause is the Assistant Director of Housekeeping for University of Wisconsin-Madison's Division of Housing. She is also a founding member of Healthy Schools Campaign's National Green Cleaning Schools Steering Committee. Jodi is a graduate of the University of Wisconsin-Madison.