Going For The Green
School Launches Green Cleaning Program
---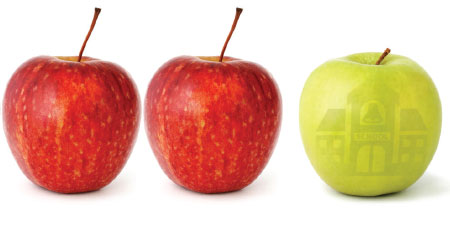 In July 2008, we at Columbia Public Schools learned that Missouri would be moving toward a potential "Mandatory Green Law," using the State of Illinois as a blueprint. At the time, we did not understand green cleaning products, procedures or what it would take to get a program off the ground. Our district was conventional and "old school," but I knew there was great opportunity for improvement.

Although there were many layers of management, I had developed strong relationships with key parties in our district. This potential law was my path to transition to green cleaning, and I received full support from my direct supervisor and administration to research, evaluate and prepare for the change.
Make The Case
In order to make the case to switch to green cleaning, you need to become the expert on the topic. I spent hundreds of hours researching green cleaning products, and networking and visiting with vendors and manufacturers. I also visited with custodial staff, principals and teachers to discuss their opinions on existing products and procedures. These conversations provided a very good blueprint of what issues stakeholders face and created support for the change toward more environmentally friendly programs.

It's important to convince everyone — from custodians and your boss, to teachers and principals, all the way up to the board president — of your vision and why it is important to move toward green cleaning.

Fortunately, I had already started the process of evaluating our operational challenges and potential costs to the program. I discovered that we had more than 33 cleaning chemicals and floor products, old paper towels, tissues and soap dispensers, cloth and disposable rags, string mops with single mop buckets, oversized trash bags and excess receptacles, and antiquated equipment outsourcing repairs. What we didn't have was any consistency in our cleaning program, resulting in building cleanliness issues.

By the fall of 2008, we began testing green cleaning products, supplies and equipment. We set up test sites in several buildings so staff could evaluate the products. We also scheduled personal visits with superintendents, principals and teachers and brought along potential new dispensers, paper and soap products, to get their feedback. The process took time and effort, but the more you involve and provide information to all end users, the more likely they are to support and accept the change.

It is also very important to include your custodial staff and get their buy-in. Not only did we include staff in product testing, but we educated them on the differences between traditional and "green" cleaning chemicals.

When we started, roughly 60 percent of the staff understood and committed to the shift toward green, 25 percent were on the fence, and 15 percent were skeptical. The skeptics were concerned about using flat mops instead of string mops, using backpack vacuums instead of uprights, and questioned the effectiveness of "green" chemicals. The key to getting them to buy into the vision was training and education.
next page of this article:
Benefits Of Green Cleaning In Schools
Disclaimer: Please note that Facebook comments are posted through Facebook and cannot be approved, edited or declined by CleanLink.com. The opinions expressed in Facebook comments do not necessarily reflect those of CleanLink.com or its staff. To find out more about Facebook commenting please read the Conversation Guidelines.