Taking Stock: What's In Your Closet?
Regular Inspections Ensure Adequate Supplies, Safe Equipment
---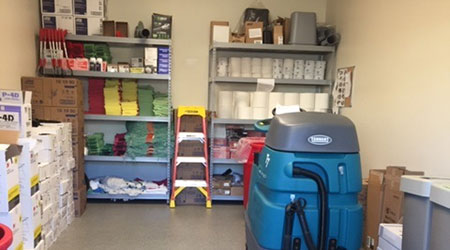 Custodial closet inspections are conducted monthly by the facility supervisor and logged in a formal report. This includes inspecting whether floor equipment and other heavy equipment are safe for operation (frayed electrical cords, filter and battery usage, notations of the usage numbers on metered equipment) and verifying that the location of equipment is in the designated closet "safe zone." In addition to equipment, product stock is inventoried in monthly inspections, and product labeling and dating are checked on all spray bottles, consumables and closet inventory. Warehouse staff provides weekly microfiber laundry pick-up and delivery service of textiles to each building. Cloths and mops are labeled, separated and their quantity is entered into the electronic system.
These inspections are very comprehensive, but they also provide operational assurance to our campus community that FMD employees value waste reduction and daily cleaning practices that reduce the environmental cleaning impact on our community.
A critical part of any effective facilities management operation is ensuring proper equipment and cleaning materials are readily accessible to staff. An organized custodial closet and properly maintained inventory program will help.
There are also many resources to help facility cleaning managers get started on the right path, including:
Healthy Green Schools and Colleges offers "5 Steps to Green Cleaning Guide." Take a look at step No. 4, titled "Adopt Green Cleaning Training and Procedures."
ISSA has the Cleaning Industry Management Standard for Green Buildings (CIMS-GB). I'd recommend the sections on Quality Plan Guidelines, and Health, Safety, and Environmental Stewardship Guidelines.
Green Seal's GS-42 Certification Standards are a great resource. Specifically, review the training section.
These all provide high-quality frameworks for standardizing and improving operations and specifying custodial closet materials. These materials, along with a lot of time and attention, have helped UGA FMD custodial staff maintain safety procedures for themselves, as well as the building inhabitants and student community.
Kimberly Thomas is the Director of Facilities Management at the University of Georgia — Facilities Management Division. She has been involved in programs that earned the Green Cleaning Award for Schools and Universities, a Green Cleaning Award Honorable Mention, and recognition for commitment to green cleaning and sustainability from the Healthy Schools Network, Environmental Protection Agency – Georgia state office, and U.S. Green Building Council – Georgia division. Kimberly is an active member of the Healthy Green Schools and Colleges Steering Committee and is a member of USGBC-Georgia.
previous page of this article:
Inventory Management Improves Cleaning Efficiency
Disclaimer: Please note that Facebook comments are posted through Facebook and cannot be approved, edited or declined by CleanLink.com. The opinions expressed in Facebook comments do not necessarily reflect those of CleanLink.com or its staff. To find out more about Facebook commenting please read the Conversation Guidelines.