FEATURES
Penny Wise, Pound Foolish
---
How can a custodial manager maximize the return on investment for one of the more expensive items in the facility? It's a good question because when it comes to floors, no matter what type of covering is installed, it will be an expensive investment.
For example, about 20 years ago a mid-sized university decided to invest in an effective carpet care program — including quality vacuum cleaners, spot cleaning equipment and a variety of carpet cleaning machines — and established a routine cycle of cleaning for carpets throughout its buildings, especially in residence halls. Carpeting installed in the halls was used and often abused around the clock. Mainly because there previously was not an effective and proactive carpet cleaning program in place, many were being replaced around the seven-year mark. Some had even "uglied out" earlier than that.
After initiating an aggressive maintenance program, not only did the hallways look better, the life of the carpet was often extended by several years. In times of tightening fiscal issues, the routine cleaning cycle was worth its weight in carpeting. It extended the life of the carpet and increased customer satisfaction, all while saving on replacement costs for new flooring.
Just extending the replacement cost of carpeting for one year can result in significant savings. However, there is a tendency for custodial managers to look at the short term gains and savings by minimizing such a program (pennies wise), while forgetting the long term potential savings by increasing life expectancy and increasing customer satisfaction (pound foolish).
Understanding Carpet Warranties
Before starting any carpet cleaning program, facility managers should familiarize themselves with the warranties of the carpeting installed in the building. The best way to collect this data is to go to the source, the carpet manufacturer and the manufacturer's published literature. Review these warranties carefully. Ideally, when carpet is installed, the custodial manager should obtain the warranty and cleaning information from the project manager. Keep these instructions on file for the life of the carpet.
Warranties from manufacturers may vary, however. Generally there are exclusionary statements for items such as excessive wear and tear, improper cleaning and maintenance, wetting or flooding of carpeting and cleaning of carpeting by inexperienced or uncertified carpet cleaners. As a service to custodial managers, the Institute of Inspection, Cleaning and Restoration Certification (IICRC) provides detailed information about a variety of floor care certification programs.
Managers can also utilize the Carpet and Rug Care Guide, available from the Carpet and Rug Institute (CRI). It provides a form for documenting information about newly purchased and installed carpet. Proper maintenance of carpets starts from the day it is installed. This proactive cycle of maintenance will enhance the beauty of the carpet while also extending its life.
Clean Carpets Start With Vacuuming
Effective carpet cleaning is a process that begins in entryways. According to industry statistics, an estimated 70 to 80 percent of dirt is tracked in through the front door. That said, custodial managers are advised to stop the dirt before it enters a building.
Often, facility managers skimp on exterior matting because it is perceived as being too expensive. However, the reality is that it costs a lot less to keep dirt out of a building than it does to clean and remove it daily.
To reduce the amount of soil tracked into a facility, an effective matting program should include the elements outlined in the diagram below.
Once a matting program is in place, managers should focus on removing the remaining dirt from the building as soon as possible. Regular spot vacuuming to pick up soil in an expeditious manner can be accomplished with a quality vacuum, such as a backpack vacuum that offers maximum mobility. Vacuum cleaners should meet established indoor air quality standards, be energy efficient and meet or exceed industry standards for safety of operations.
Just like loose dirt, spots on carpeting should be removed as soon as possible. The longer soils or stains remain on a carpet, the harder these are to remove.
Custodial crews should remove heavy soil with a scraper, being conscious not to rub it into the carpet. Clean water, in many cases, will release soil, so rinse the area liberally with water. Work from the outside of the stain inwards, blotting with a clean, dry, white cloth. Colored cloths should be avoided as the color may transfer from the cloth onto the carpet. (The Carpet and Rug Institute has an excellent soil removal guide available.)
Although spot vacuuming and cleaning can be done while occupants are in the facility, most wide-area vacuuming should wait until closing time. Wide-area vacuuming on a regular basis for the removal of soil is considered the most critical element in the carpet cleaning process.
Spot vacuuming affords the cleaner an easy and fast way to move isolated, soiled areas. Wide-area vacuuming removes soil from all exposed carpet surfaces and minimizes its potential spread throughout the building. Frequent vacuuming also prevents soil from being sucked into the heating, ventilation and air conditioning systems (HVAC) and subsequently blown throughout the facility.
Small or large, vacuums should always be in good repair, the dust/soil collectors should be emptied when half full and air filters should be kept clean. Proper maintenance of this equipment will lead to stronger results.
A Deep Clean
Vacuuming goes a long way to extend the life of carpeting, but sometimes actual cleaning is essential. Interim carpet cleaning usually minimizes the frequency for deep extractions and includes some type of mechanized cleaning system that may use dry chemicals, crystallized compounds, powders or sprayed chemicals that are applied to a carpet surface and then agitated and picked up by a machine. When using this method on carpets, it is imperative to remove as much of the cleaning compound as possible and to let the carpet thoroughly dry before foot traffic is allowed back into the area.
In order for effective interim cleaning to occur, four elements must interact in the process: The right chemical needs to be applied properly; accurate water temperature should be used; proper dwell times will guarantee soil is released; and machines should be used for agitation. If any of these four elements are left out, cleaning will not be effective.
In addition to interim cleaning, departments should practice restorative carpet care, which includes deep cleaning with heavy duty or industrial carpet extractors and/or steam cleaning. Jeff Bishop, in his article titled A Life-Cycle Cost Analysis for Floor Coverings in School Facilities, indicates that deep cleaning should take place upwards of three times a year. Other experts indicate that extraction should be done at least once a quarter. (Departments are advised to review carpet warranties to guarantee they are meeting maintenance requirements.)
Extraction is imperative to remove excessive soil that has penetrated deep into the fibers, as well as any chemical reside left behind. The removal of the residue brightens the carpet appearance substantially, as any remaining chemical left on the fibers dulls the carpets color.
Proper Training
Whether vacuuming or deep cleaning, no carpet care program will be successful unless cleaning personnel are thoroughly trained in carpet cleaning methods, equipment and technique.
Cleaning carpet is not only an art, it is a science. Before allowing anyone to tackle this task, workers should be thoroughly trained in carpet types, carpet equipment, soil removal techniques and chemistry. It is highly recommended that lead carpet cleaners be trained and have credentials from an industry recognized carpet cleaning certification program.
Budgets Influence Carpet Care
During the last few years there have been increasing pressures to decrease costs, and in cleaning, that means decreased frequencies. But decreasing the frequencies of carpet cleaning can have numerous adverse results. In fact, initial short-term savings can result in long-term expenses.
For starters, the life cycle of the carpet will diminish. As illustrated in the earlier example, carpeting that had been cleaned with a less than effective program lasted less than seven years, yet when cleaned using a proactive cleaning system, the carpet's life expectancy increased to 10 or 11 years.
Reducing carpet care frequency also does a number on the indoor air quality (IAQ) within the facility. Soil that is not removed from carpets recirculates throughout the building's HVAC system. This causes unnecessary soil and dust to shorten the life cycle of filters (increasing filter costs), increases levels of dust on furnishings and surfaces (increasing labor costs) and increases the discomfort of building occupants that can lead to allergies and possibly illness (lost productivity).
Finally, uninhibited and excessive soil and dust can decrease the effectiveness of HVAC systems, thus increasing heating and cooling costs. Excessive soil and dust can cause sensitive systems to malfunction, such as computers, central processing units and mass media storage devices.
Cleaning carpets on a regular basis is an effective cost saving tool that not only enhances the beauty of installed carpet, but also contributes to the bottom line. It improves the lifecycle costs of carpeting, improves indoor air quality, decreases the use of energy and it increases the well-being of occupants within the facility.
Alan Bigger is a former facility executive, APPA Fellow and industry consultant based in South Bend, Ind.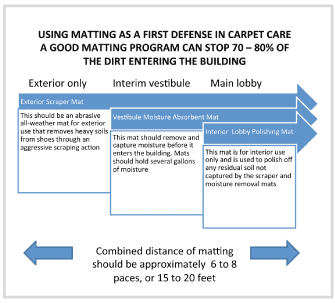 Disclaimer: Please note that Facebook comments are posted through Facebook and cannot be approved, edited or declined by CleanLink.com. The opinions expressed in Facebook comments do not necessarily reflect those of CleanLink.com or its staff. To find out more about Facebook commenting please read the Conversation Guidelines.