Adapting to COVID-19 Challenges
Managing Inventory Amid The COVID-19 Pandemic
---
BY James DeGraff, Associate Editor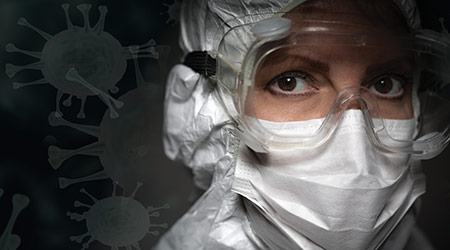 Nobody needs a reminder on how severely the COVID-19 pandemic has affected the cleaning industry. Supply shortages, exhausted budgets and even-more exhausted custodians on the frontlines have produced unprecedented levels of anxiety and adversity.
It would be unheard of, however, for facility cleaning managers to not put up a fight. Surely enough, examples of departments maneuvering through these setbacks have been on display from the onset. Resourcefulness is a cornerstone of any great manager or custodian, so perhaps those efforts shouldn't come as a surprise.
From strategic inventory planning to the digitization of training, plenty of pivotal strategies are coming to the forefront. Some were established before the pandemic ever hit, while others were on-the-fly maneuvers. Regardless, the unrelenting response is enough to give any cleaning department plenty of hope for the future.
Overcoming Shortages
While equipment shortages and inconsistent shipments have affected most, some facilities have been able to diffuse more damage than others thanks to resources put in place pre-pandemic. For Mervin Brewer, assistant custodial supervisor at Salt Lake City School District, Salt Lake City, on-site generation has settled any concerns over inadequate sanitizer supply. Additionally, he says the sanitizers being created were already registered by the U.S. Environmental Protection Agency (EPA) — an advantage he credits to the district's decision to move to a greener profile several years ago.
"Some districts I've talked to were caught off guard when the pandemic hit, as they had to immediately turn to quaternary ammonium compounds and were unfamiliar with how to properly manage them," says Brewer. "But for us, both our primary hypochlorous disinfectant and our backup option, hydrogen peroxide, were both on the EPA-approved list. All we need is water, electricity and rock salt. Other than elevating the dosages, we didn't have to change anything."
While equipped with a different setup for on-site generation, Eric Herman, public service manager for the City of Austin, Texas, addressed the same sense of relief as Brewer. Utilizing a dual-tank machine, Herman's cleaning crews can access up to 3,000 gallons of product daily, with one tank producing a degreaser and all-natural cleaner and the other generating a hospital-grade disinfectant.
"A lot of our frontline workers are thankful for the system. We equip our staff with 5-gallon jugs where they can stop at the main facility and fill up as needed," says Herman. "The disinfectant has been tested to kill coronavirus at a 60-second dwell time, so it's been a godsend."
As for the availability of disinfectant and sanitizer tablets, wipes and personal protective equipment (PPE), facilities across the country have frequently been met with deferment shortages with priority going towards healthcare efforts. If not for backloading their inventory prior to the pandemic, both Brewer and Herman would have otherwise expressed concern for their inventory, particularly for masks and gloves.
"If we didn't have dust masks in stock, we'd be screwed," says Brewer. "The same goes for hydrogen peroxide wipes and similar products with a broad spectrum of killing capability. We were running low and put in an order for procurement just before the pandemic hit."
The key, Herman says, is piecing together what is available and finding alternative solutions.
"By having as many supplies backloaded as possible throughout the year, you can maintain some level of normalcy," says Herman. "One example stems from our inability to get peroxide wipes. Since we had dry wipes available and a surplus of on-site disinfectant, we were able to determine appropriate doses and essentially create our own replacement."
next page of this article:
Virtual Training And Procedural Shifts