Faces of the Frontline
Jacqueline Roberts Excels Through Consistency
---
BY James DeGraff, Associate Editor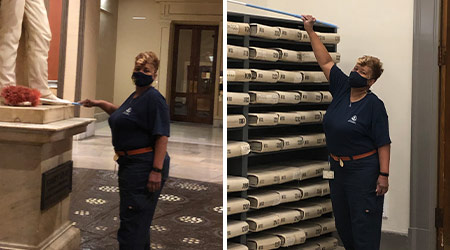 In an industry where turnover is frequent and reliability is not always assured, full-time Custodian Jacqueline Roberts has been a pillar of consistency for over 24 years with Louisville Metro Government Facilities, Louisville, Kentucky. Working with a wide array of personalities over her tenure, Roberts never fails to bring the same positive approach to a position where she hasn't missed a shift in over 10 years.
Key to Roberts' excellence on the job is her ability to take on a multitude of tasks without getting overwhelmed. Her primary duties include vacuuming, mopping, snow removal and litter collection, but she also takes on floor stripping and waxing, carpet care projects and is relied upon heavily to ensure special events run smoothly at the facilities. Roberts is also tasked with equipment and supply management, making sure tools are in-stock and maintained to maximize longevity and effectiveness.
"Jacqueline demonstrates excellence in every aspect of her work; she receives a nearly-perfect score on her quarterly inspections," says Tabitha Gray, labor supervisor for Louisville Metro Government Facilities. "'Above And Beyond' is what Mrs. Roberts' name should be."
Aside from her own duties, Roberts never misses an opportunity to mentor or assist her coworkers, showing compassion for other custodians who may still be learning the ropes. A perfectionist at heart, a job is never completed to Roberts unless it is done to its fullest potential — a mindset that is more important than ever for keeping people healthy and safe.
"Jacqueline is deserving of this recognition in more ways than one, from attendance, work performance and working well with her coworkers," says Gray. "Being able to jump in at any time and complete any task to perfection, Mrs. Roberts is a supervisor's dream-come-true employee."
Each month this section will recognize an outstanding frontline janitor. To nominate a deserving employee, email james.degraff@tradepress.com
Disclaimer: Please note that Facebook comments are posted through Facebook and cannot be approved, edited or declined by CleanLink.com. The opinions expressed in Facebook comments do not necessarily reflect those of CleanLink.com or its staff. To find out more about Facebook commenting please read the Conversation Guidelines.