An Extraordinary Experience
ISSA Event Promises To Deliver
---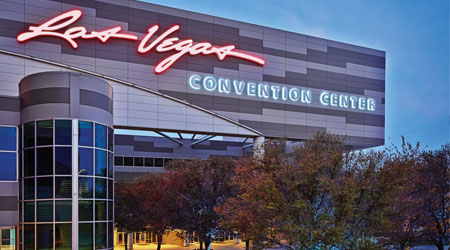 The 2017 ISSA/INTERCLEAN North America show is bigger than ever, drawing worldwide industry professionals and exhibitors

This September, the Las Vegas Convention Center will be the site for the largest U.S. trade show in the cleaning industry — ISSA/INTERCLEAN 2017 North America. Taking place from Sept. 11 to 14, more than 16,000 cleaning and facility solutions professionals from 74 countries will gather to listen, learn, network and share.

Dubbed "Uncover Extraordinary" the event is referencing not only what facility cleaning executives will experience during the show but also how they will benefit as a result, uncovering the extraordinary in themselves and their facilities through new solutions and insights provided by more than 700 exhibitors from 25 countries and an array of industry and business experts.

Adding to the energy are several co-located events hosted by industry associations. Returning this year are annual conventions and conferences from the Cleaning Equipment Trade Association (CETA), IEHA and Building Services Contractors Association International (BSCAI). There's also one from a new ISSA co-located partner, the EPIC 2017 Conference, which unites TriMega Purchasing Association and Independent Stationers (IS).
New To The Show
In addition to the expanded exhibit space — enlarged to accommodate the growing numbers of exhibitors and solution providers — attendees to this year's show will find plenty of new features designed to add even more bang for their buck. These "firsts" include the all-inclusive trade show and convention packages providing the ability to customize the experience to their specific needs. Packages include three days of unlimited access to the trade show and outdoor exhibits, as well as access to the Welcome Networking Reception, ISSA Convention Seminars, Lunch and Learn, Show Floor Guided Tours, Evening Roundtables, State of the Economy and State of the Industry Panels, and both ISSA Keynote addresses.

Attendees can mix and match these sessions or select from one of five packages. These include: Green Clean Schools; Healthcare Environment Essentials; Residential Cleaning Connection; and Commercial Cleaning Business Solutions.


The outdoor exhibits have proven so popular that their hours have been extended for this show, giving attendees more time than ever for hands-on learning and testing. Also new is the Welcome Reception, which provides attendees, speakers and sponsors a chance to network before the show officially starts. Then there's the Show Floor Guided Tours, which take place before the show floor opens and treat those attending the event for the first time with a tour of the exhibit area, allowing them to map out their attack plan.

The Evening Roundtables are another addition to the conference this year. Designed to provide participants with the opportunity to ask questions and receive answers from other professionals interested in the same issues and concerns, the roundtables will touch on such topics as employee evaluations, employee incentives and benefits, getting out of the field, green cleaning, how to create a marketing calendar/marketing automation, finding and recruiting new employees, and more.
Seminars And Workshops
Education has always played a key role in ISSA trade shows and this year's event is no different. There are two specialty tracks facility cleaning managers can benefit from.

The Green Clean Schools track is presented by the Healthy Schools Campaign and ISSA. This series of education is designed to provide facility personnel with the tools needed to implement effective green cleaning programs at their institutions. Some of the seminars available include taking stock of green cleaning programs in schools, cost savings, green cleaning equipment and supplies, identifying green cleaning products, and adopting green cleaning training and procedures.

The Healthcare Environment Essentials track provides an intensive educational program for those with a special interest in safeguarding healthcare environments. Included in the educational seminars are discussions on infection prevention and control, disinfection and decontamination, and preventing illness and absenteeism, to name a few.

In addition to the traditional education tracks, the show also offers participants the chance to attain certifications through various workshops. Some of these workshops/certifications include ISSA CMI Carpet Care Certification, CITS: Accredited Certification Trainer (A.C.T.), CIMS: ISSA Certification Expert (I.C.E.) and several others.

Learning opportunities will continue throughout the week, including a complete listing of education at the trade show Education Theater.
Speakers And Panelists
ISSA has assembled quite a roster of speakers to engage and entertain attendees this year. First up is football great Troy Aikman, tapped to deliver the keynote address, entitled "A Winning Playbook," on Wednesday, Sept. 13 at 9 a.m. Aikman's exploits on the football field as quarterback for the Dallas Cowboys were legendary. He spent a spectacular 12 seasons with the Cowboys, leading them to six divisional titles, four conference championship games and three Super Bowl wins. Along the way he managed to set 45 franchise passing records and was named Most Valuable Player of Super Bowl XXVII. Aikman is now the lead NFL analyst with FOX.

The hilarious and witty Howie Mandel will close the show, delivering the final keynote on Thursday, Sept. 14 at 2:30 p.m. After 30 years in show business and eight seasons as a judge on "America's Got Talent," Mandel also has a serious side. In 2009, he authored, "Here's the Deal: Don't Touch Me," which details his struggles with obsessive-compulsive disorder (OCD) and attention-deficit/hyperactivity disorder (ADHD) and how these conditions have helped shaped his life, career and comedic genius. In his keynote, Mandel will sit down for a Q&A with ISSA's John Barrett before showcasing his talents in a stand-up routine.

But that's not all. Also taking place on Thursday at 9 a.m. is the State of the Economy Panel Discussion. Moderating the discussion is Frank Luntz, recognized and honored worldwide for his business acumen and predictive accuracy.

Discussion panelists include Brian Beaulieu, who has presented workshops and economic analysis seminars in over seven countries and who assists companies in planning and forecasting; Jim Messina, who served as Barack Obama's chief of staff and masterminded his 2012 re-election campaign and who now heads up the Messina Group, which provides strategic consulting services; and Karl Rove, former senior advisor for George W. Bush, and current Republican political consultant and policy advisor, author and frequent guest/commentator on the FOX News Channel.

Since staying abreast of future economic trends is critically important for facility survival, attendees wont want to miss this panel discussion.

Nor will they want to skip the 1:25 p.m. State of the Industry Panel on trends in facility solutions. Cynthia Lockwood, associate director of facilities management at Cornell University, Ralph Lepore, assistant director at McCarran International Airport, and Steve Gilsdorf, director of custodial services at Western Michigan University, will share what makes them successful, hardships they face, and strategies to remain relevant.


Networking And Fun
The show makes networking easy.

Launching the event, the ISSA Golf Tournament is a not-to-be-missed networking opportunity and fun to boot. Taking place on Sunday, Sept. 10, at the award-winning Arroyo Golf Club, located at Las Vegas' Red Rock Country Club, the scramble tournament kicks off with a 12:30 p.m. shotgun start. Participants can form their own teams or be paired into foursomes (teams will be equalized with a handicap system). ISSA has also brought in the Tee Shot Blaster for the closest-to-the-pin challenge.

Once the show floor opens, attendees can dive into the roundtables, seminars and workshops, show tours and receptions, and just plain old bumping into people while wandering the exhibits. Not to be overlooked, attendees can connect with others at the ISSA Sports Bar, which offers a convenient place to take a break, relax and chat, or enjoy a lunchtime networking meeting with colleagues at the ISSA Bistro.

Don't be quick to rush out after the show floor closes, either. Following Mandel's afternoon address, ISSA is holding a drawing where six fortunate winners will receive a golden ticket admitting them to an unforgettable "Dallas Experience," one of several prizes, including tickets to the Dallas Cowboys second, regular-season game; a Neiman Marcus shopping trip; a visit to Wild Bill's to pick up hats and boots; or another adventure valued at $1,000. This is a nod to next year's conference and convention, scheduled to be held in Dallas.

As if all of this weren't enough, there's Las Vegas itself that will draw attendees to this event. The city and its surroundings offer a wealth of things to do and experience. With world-class dining, unrivaled shopping, lavish hotels and casinos, and of course the Strip (famous for a reason), it's the perfect venue for extending the show's excitement well into the wee hours. Come a few days before ISSA/INTERCLEAN or stay a few days later. Vegas will never tell.

PAMELA MILLS-SENN is a freelance writer based in Long Beach, California.
next page of this article:
Seminars Tout Green And Healthy Schools
Disclaimer: Please note that Facebook comments are posted through Facebook and cannot be approved, edited or declined by CleanLink.com. The opinions expressed in Facebook comments do not necessarily reflect those of CleanLink.com or its staff. To find out more about Facebook commenting please read the Conversation Guidelines.
---