A Facility's Tectonic Shift
How To Care For Stone Floors
---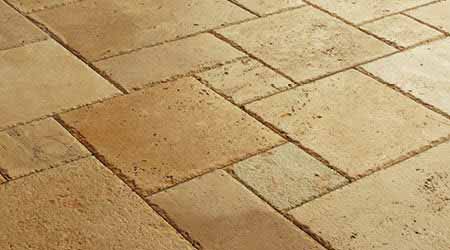 When it comes to updating a facility's interior, architects, building owners, and others responsible for specifying building materials are increasingly pulling up carpet and synthetic flooring and replacing it with natural stone flooring such as marble, granite, limestone, slate, terrazzo and terra cotta. Often forgotten about until the product is installed, however, is how the new flooring will be cared for, and if the upgrade will impact cleaning and maintenance budgets.

What happens is, facilities will pull out resilient flooring and replace it with a stone floor, completely ignoring the cleaning staff's budget and the manpower to maintain the new floor. This leaves the cleaning staff in a jam because caring for a stone floor differs greatly from other types of hard surface floors.

"Facility cleaning managers and owners need to be on the same page as far as what product, equipment and amount of labor is needed to maintain stone floors," says Teresa Farmer, e-commerce, product and education coordinator at Kelsan, a jan/san distributor based in Knoxville, Tennessee. "In order to meet the expectations of the owners, the facility cleaning manager needs to communicate what is doable."

When it comes to stone floor care, there are upfront costs building owners should take into consideration. Stone floor care requires an initial investment of a floor machine, diamond pads and stone-specific chemicals. These costs are recouped relatively quickly, however, when considering there is less often a need for floor chemicals, strippers and finishes that traditional flooring requires.

"Anytime you can eliminate the stripping and the finishing and burnishing cycle, you're going to reduce your cost from 50 to 65 percent over a strip and finish and burnish floor covering," says Bill Griffin, president of Cleaning Consultant Services, Inc., Seattle. "It's a major savings, so that's why these stores and facilities are pulling out the VCT tiles and other kinds of surfaces and putting in stone or polished concrete. Because none of those require floor finish on them. They are all floors where you are maintaining the floor surface itself without a protective or sacrificial coating."

If cleaning personnel aren't properly trained on how to care for the new stone flooring, however, it could backfire.

"You don't just take a floor man and make him a marble man. There are differences," says John Poole, a consultant with the American Institute of Cleaning Science in Atlanta. "And that's what people try to do, they try to put a round peg in a square hole. You need to send people to school so they can learn. Invest in them, pay them the money, and then they have ownership. The equipment is also different. Some equipment is weighted, so you need to make certain you have the right amount of weight. Staff needs to understand the floor type so they know the maintenance that is required on it."

With more facilities installing stone flooring, industry consultants say there is a huge need for cleaning personnel to learn how to properly care for these flooring types.

"Training is definitely an important part of the process in switching over," says Griffin. "If you don't train your people properly on what they're supposed to do, you're not going to get the longevity, the life or the desired appearance of the floor."

Stone floors are huge investments. When such floors are damaged by improper cleaning, the restoration costs can break a facility manager's budget. Therefore, it is essential for managers to train their employees on how to maintain this unique type of flooring.
next page of this article:
Tips To Maintaining Stone Floors
Disclaimer: Please note that Facebook comments are posted through Facebook and cannot be approved, edited or declined by CleanLink.com. The opinions expressed in Facebook comments do not necessarily reflect those of CleanLink.com or its staff. To find out more about Facebook commenting please read the Conversation Guidelines.