Guidelines to Safety
Hazcom Training and Policies Surrounding SDSs
---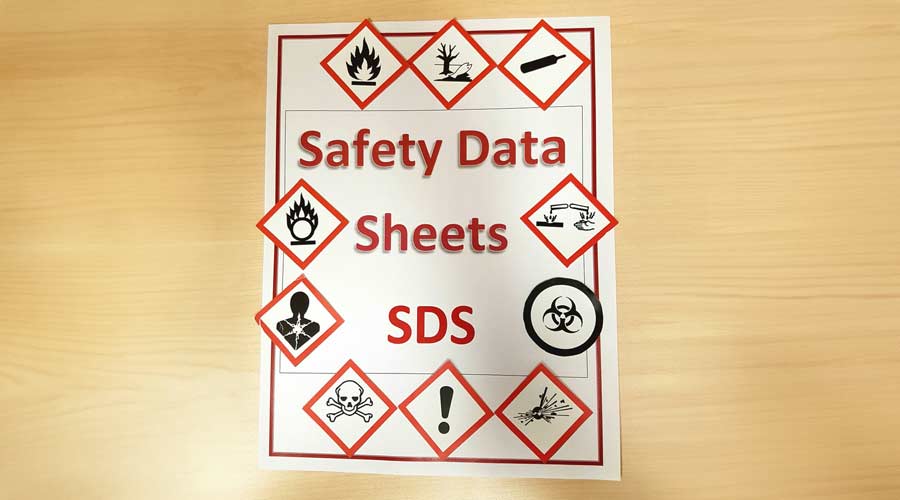 Safety data sheets (SDSs) act as a detailed roadmap for chemical use. These documents are designed to safely guide the user from point A (a new chemical product) to point B (safe and effective chemical use).
With an SDS, the end user should be able to avoid wrong turns (product misuse) and getting lost along the way (injury or damages). However, just like a pre-GPS roadmap, safety data sheets can be somewhat intimidating to look at and understand — both for first-time users and even veterans.
That said, there are a few key points that cleaning professionals should pay attention to.
The Importance of SDSs
Safety data sheets are required in the workplace by law as part of the Occupational Safety and Health Administration (OSHA) Hazard Communications Standard. This program is built on the fact that employees not only need to know and understand the hazards of working with hazardous chemicals, but also how to respond in the event of unplanned or accidental exposure.
State and federal laws require that the chemical manufacturer, importer, or distributor make the SDSs for hazardous chemicals that they store, make, or distribute available to end users in the workplace. Businesses/departments that fail to comply with OSHA standards can be cited and fined, sometimes in excess of over $14,000 per violation.
Safety data sheets are the internationally recognized format for communicating the use, handling and storage of hazardous chemical products. These were previously known as MSDSs (Material Safety Data Sheets). MSDSs were loosely regulated and varied by manufacturer, country of origin and product, which lead to widespread confusion.
In an effort to better align hazard communications with the Globally Harmonized System (of the United Nations) and allow for hazardous chemical information to be presented to users in a consistent, uniform and easy-to-understand way, OSHA converted MSDSs to SDSs in 2012.
Although the change was not simple, the information presented in each of the two documents is mostly the same. One main difference is that SDSs are required to be formatted in a 16-section format:
• Section 1 – Identification
• Section 2 – Hazard(s)
• Section 3 – Composition
• Section 4 – First-Aid Measures
• Section 5 – Fire-Fighting Measures
• Section 6 – Accidental Release Measures
• Section 7 – Handling and Storage
• Section 8 – Exposure Controls/Personal Protection
• Section 9 – Physical and Chemical Properties
• Section 10 – Stability and Reactivity
• Section 11 – Toxicological Information
• Section 12 – Ecological Information
• Section 13 – Disposal Information
• Section 14 – Transport Information
• Section 15 – Regulatory Information
• Section 16 – Other Information
Reading a Safety Data Sheet
Employees can avoid personal injury and damage with a clear understanding of how to read and understand safety data sheets. SDSs provide the information an individual needs to protect oneself from potential adverse health effects, correctly handle the chemical, avoid possible dangers, properly dispose of the chemical, and more.
The early sections of the SDSs (sections 1-8) contain essential information for safe handling practices or emergency response in the event of a chemical accident. The next sections (9-11) review the technical and scientific data — chemical compounds, reactivity, physical and chemical properties. Sections 12-15 provide insight on regulatory and disposal information pertaining to the chemical. And, finally, the last section contains information about the SDS itself like production date, revision dates, etc.
Facility cleaning managers are encouraged to seek training on SDSs and chemical handling to avoid injury. This training should also be provided to all frontline workers.
Employer Responsibilities
OSHA requires that safety data sheets for all hazardous chemicals used within a facility are:
• Up-to-Date — New SDSs must be provided when significant changes to the chemical compound or use has been made.
• Clearly Visible and Readily Accessible to All Employees During Every Shift — For access, SDSs can be stored in a binder where chemicals are present on site, and/or electronically. Both hard copy and electronic storage are acceptable as long as all employees are trained on how and where they can easily access the files.
• Provided in English — Although, SDSs may also be provided in additional languages as necessary.
One of the easiest ways to ensure staff and facility safety, as well as protect against lawsuits or workers compensation claims, is to provide staff Hazard Communication training, which reviews SDSs. Training ensures staff can properly read and understand what to do with an SDS before, and in case of an emergency.
Unplanned or accidental chemical exposure can lead to injury and illness, ranging from minor rashes and skin burns, to serious health problems, like cancer, organ damage, or even death. SDSs provide cleaning professionals and frontline workers everything they need to know to store, handle, and dispose of the chemical — including what to do in case of possible exposure or mishandling, how to avoid injury or illness, and other hazards.
Lauren Belskie is a major contributor and the primary editor for the Imperial Dade Learning Center, a platform designed to answer common questions, provide insights on trends and offer creative solutions to help businesses create safer, healthier and cleaner facilities. She is the Marketing Operations Manager at Imperial Dade, producing articles, videos, trainings, and other educational content targeted to the janitorial services market.