Keeping Caring Hands Clean
Handwashing That Prevents Dermatitis
---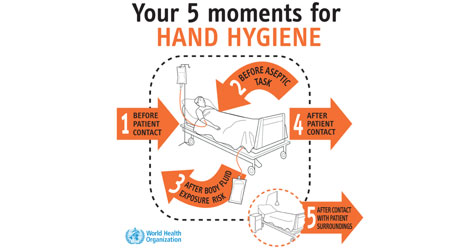 All healthcare workers are caregivers. They have either direct or indirect contact with patients or residents and their hands are their primary instruments of healing. Which is why their hands must be clean.

The need for hand hygiene is well documented. According to the U.S. Centers for Disease Control and Prevention (CDC), "Handwashing is the single-most important means of preventing the spread of infection." It is also credited by the CDC for these outcomes:

• Reducing the number of people who get sick with diarrhea by 31 percent
• Reducing diarrheal illness in people with weakened immune systems by 58 percent
• Reducing respiratory illnesses in the general population by 16 to 21 percent

Although important to infection prevention and the reduction in cross-contamination, handwashing guidelines and checklists set up one of the industry's critical challenges. Take, for instance, the World Health Organization's (WHO) Five Moments For Hand Hygiene initiative, which outlines when healthcare staff must wash up when interacting with patients (see diagram above).

For example, lets assume a nurse walks into five patient rooms per hour of an 8-hour shift. If they only wash when walking in and leaving, that's 80 hand washes. But WHO recommends five separate washes per patient visit. That takes us to a level of hand washing of 200 times per shift.

It's this amount of hand washing that raises the risk of irritant contact dermatitis, which is one of the biggest causes of absenteeism in healthcare workers.
Defeating Dermatitis
It is no wonder that dermatitis is a major cause of absenteeism for healthcare workers who are incessantly prodded with pep talks, shamed by "secret shoppers" and buried in posters to wash hands more often. Dermatitis sufferers endure very painful hand washing, especially when using alcohol hand sanitizers. They compensate by not washing, leaving gloves on, or switching to soap washes, which feel less irritating.

At this juncture, the worker is blaming the damaged skin on the harshness of the alcohol, when in reality, it is the soap that has ravaged the skin.

Hand soap is an important weapon in healthcare's arsenal of infection control. Unfortunately, ill-advised budget cuts have resulted in an increase of low-end soap usage — a boon for purchasing departments, but somewhat at the expense of building occupants. These low prices accompanied by label claims can often conceal the factors resulting in dermatitis.

Lower quality soaps are often poor rinsing, leaving an invisible coating on the skin. The residuals continue to extract oils from the skin, which is a major cause of irritant contact dermatitis.

When purchasing soaps, managers are advised to look for those that meet expectations for cleanliness and easily rinse from users hands. Also, tread lightly when encountering antibacterial claims.

Opinions differ on the importance of antibacterial ingredients in hand soaps. By definition any hand soap is the enemy of bacteria, but not all are qualified to carry the label of "antibacterial" or "antimicrobial." These claims may entice some purchasers, but a closer look at the performance issues has others recommending skin-safe hand soaps, not to be confused with the bland or plain qualifiers.

The U.S. Food and Drug Administration (FDA) has its own concerns about some of the antibacterial soaps, and has issued a ruling for the removal of Triclosan and Triclocarban from consumer products. Handwashing For Life, a global organization dedicated to solving common hand hygiene challenges, also has the following concerns with antibacterial soaps:

1. Hand contact time is insufficient to reach a significant level of bacterial or viral kill.

2. Users, especially women, often smell a chemical note and perceive the soap as harsh, thus minimizing its use.

3. According to the CDC's Guideline for Hand Hygiene in Healthcare Settings, irritant contact dermatitis is commonly experienced from antimicrobial agents in this order of decreasing frequency — iodophors, chlorhexidine, PCMX, Triclosan, and alcohol-based products (without emollients).
next page of this article:
Where Sanitizers Fall Into A Proper Handwashing Program
Disclaimer: Please note that Facebook comments are posted through Facebook and cannot be approved, edited or declined by CleanLink.com. The opinions expressed in Facebook comments do not necessarily reflect those of CleanLink.com or its staff. To find out more about Facebook commenting please read the Conversation Guidelines.