Faces of the Frontline
Faces of the Frontline Honors Walda Perez, the City of North Richland Hills
---
BY Jackson Silvanik, Managing Editor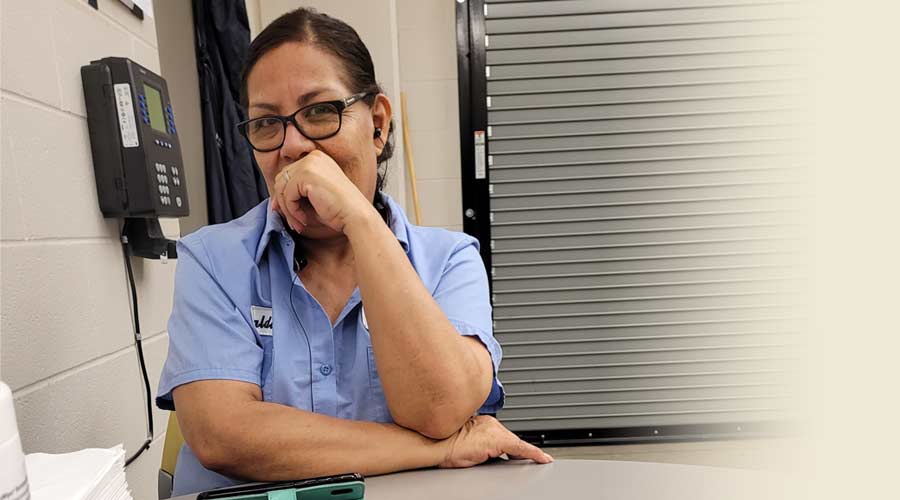 Often, some of the people most worthy of recognition are those who seek it the least. That's why Javier Mosqueda, the building maintenance supervisor for the City of North Richland Hills in Texas wanted to recognize one of his favorite employees, Walda Perez, for her outstanding performance and dedication to not just doing her job well, but doing it consistently.
Perez has been working full-time for the city for just over eight years, and judging by the list of her job responsibilities, she makes a remarkable impact on practically the entire city. Perez is known for her strong attention to detail. Wherever she is assigned, Perez goes office-to-office to ensure that everyone has what they need and will be coming to work in a clean, prepared and safe environment.
Mosqueda, her supervisor, can't stop raving about her work in the office restrooms — where Perez leaves behind immaculate facilities that have been cleaned and disinfected.
"These bathrooms, they're immaculate," he raves. "She keeps the floors clean and scrubbed. She washes the walls. She gets under the toilets and urinals and polishes every handle and any piece of stainless steel she can find."
Perez doesn't just handle the spaces under her care, she stays behind to help coworkers finish their assignments, even when it means working overtime.
Perez's hard work hasn't gone unnoticed. There can be no higher compliment than making a strong impression on others, and her supervisor notes readily that the example that she sets helped raise the bar for the entire department.
"I want to say 'thank you' to Walda, for caring about her work," says Mosqueda. "I had experience prior to this job, but she has molded me into something better. She taught me to care about the citizens that we serve and how taking those few extra steps can make a difference in the quality of the environment that we provide."
Perez's personal standards have rubbed off on everyone she works with, and they now go above and beyond to get that little stain out of the carpet, or clean that tough spot of grout one more time.
"I can't say enough about Walda," says Mosqueda. "She's the best at what she does and I am privileged to be her supervisor and friend. She's an asset to the city of North Richland Hills and she deserves all the recognition in the world."
Jackson Silvanik is the Managing Editor for Facility Cleaning Decisions, and lives and works in Lexington, Kentucky. He joined Trade Press Media in 2021 and also edits and writes for Contracting Profits, Sanitary Maintenance and CleanLink.com.