Faces of the Frontline
Faces of the Frontline Honors Eugene Brockman
---
BY James DeGraff, Associate Editor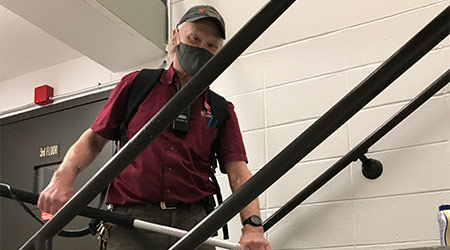 Pandemic or not, full-time custodian Eugene Brockman has never been one to back down from a challenge in the more than seven years he's spent with the University of Wisconsin — Madison. Primarily focused on campus residence halls and dining facilities, supervisors and fellow custodians have been able to rely on Brockman's initiative to take on tasks at any degree of risk or difficulty.
With perfect attendance records spanning multiple years, Brockman goes beyond just leading by example for the custodial staff. Among his notable recent efforts is his willingness to transport campus residents who have tested positive for COVID-19 to isolation housing and/or quarantine housing.
"Eugene is one of our few frontline staff that volunteered to work in our isolation halls, taking any resident calls that need immediate attention and always staying until the issue is resolved," says Andrew Anderson, assistant director of housekeeping at University of Wisconsin — Madison. "He also takes the lead of disinfecting and electrostatic spraying in dining facilities and other areas that need it."
Additionally, Brockman takes pride in ensuring processes are done correctly and potential improvements can be made. Despite working third shift, he proudly represents the night shift staff on a custodial committee that usually meets during the day.
Brockman has the kind of calming presence that every custodial manager looks for from their staff, especially during a year where such sentiments have been tougher to come by.
"Eugene is deserving of this recognition for his outstanding work ethic, dependability to get the job done correctly and thoroughly, and ability to train others," says Anderson. "He is one of the 'go-to' staff members when it comes to bigger projects, or if other staff have questions or help."
Each month this section will recognize an outstanding frontline janitor. To nominate a deserving employee, email james.degraff@tradepress.com