Faces of the Frontline
Faces Of The Frontline Honors Craig Carlson, Sierra Enterprise Elementary School
---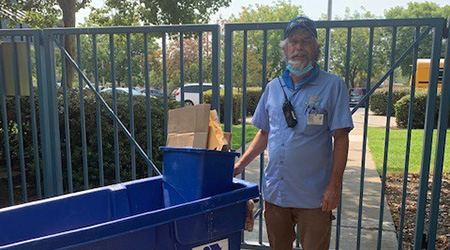 As the daytime lead custodian for Sacramento, California-based Sierra Enterprise Elementary School, the beginning of each day would appear relatively routine for Craig Carlson — open up the facilities; check all classrooms, restrooms and common areas for cleanliness; and set up the cafeteria for breakfast, then lunch later on. The approach in which he takes on each day, however, is anything but normal.
Since initially joining the Elk Grove Unified School District over 30 years ago, Carlson has always stood out for his initiative. From offering to set up tetherball for students at recess to assisting faculty in moving heavy equipment, he's always among the first to answer the call, even if it wasn't directly requested. It's the kind of drive that can't be replicated in every employee.
"He has a love for Sierra Enterprise Elementary School and the school community. He assists all staff as needed and is always a Walkie-Talkie call away," says Patricia Hecht, principal of Sierra Enterprise Elementary. "Craig is determined and will not quit until the job is done, even if this means staying past his shift to complete it."
Carlson's work ethic is what got him the promotion from the nighttime cleaning crew to his current daytime position, where he continues to thrive. Whenever he has spare time between his tasks, he makes it a point to interact with students — particularly ones that look in need of a smile.
Aside from just performing tasks at the highest quality, he's also in the trenches, researching and ordering the most innovative cleaning products and equipment and taking great pride in ensuring the school has the best infection control measures possible. At a time when COVID-19 apprehension remains high, it's relieving to know that the school's lead custodian has both his mind and heart in the right place.
"This past year has been extremely challenging, but Craig's attention to detail in cleaning and sanitizing our school has allowed our families to feel comfortable sending their children back to school," says Hecht. "Our staff is appreciative of everything he is doing to provide a safe campus for the staff and students."