Evaluating Engineered Water
Exploring Options Of Engineered Water
---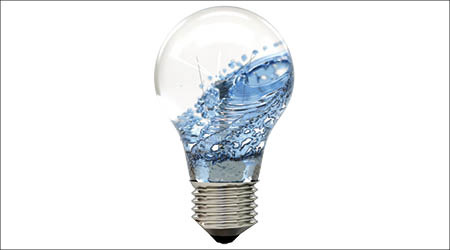 Columbia Public Schools, in Columbia, Missouri, launched a green cleaning program in 2009 and moved from conventional cleaning chemicals to environmentally preferred cleaning products. In 2016, we made the commitment to research, test, evaluate and implement a complete engineered water program to clean our 40 district buildings spanning over 3.4 million square feet.

Engineered water is basic tap water that has been activated, ozonated, electrolyzed or treated in some specific way so that it can be used for cleaning applications. There are several systems on the market for facility cleaning managers to evaluate before purchasing.

I'd recommend you begin your research of engineered water systems by exploring the internet, networking with other cleaning professionals, or speaking with vendors and manufacturers. Vendors and manufacturers will be glad to come into your facility to provide more specific discussions and demonstrations of their program.


Testing Tips
Establishing testing sites is crucial. Ensure you have similar types of school grade levels, and custodial staff in buildings that will be strong evaluators to provide both positive and negative feedback. At Columbia Public Schools, we utilized three elementary schools with strong leaders, and staff with high cleanliness inspection scores demonstrating their commitment to cleaning for health.

Once you choose where testing is done, it is important to establish several months of testing with two to three engineered water systems. Allow staff to either switch to other buildings for testing each system or move the systems themselves. In addition, it is important to include your key leaders, such as custodial trainers and supervisors, in the process.

Although each system produces some type of engineered water, each needs to be evaluated separately. Look at the stability of the ready-to-use product, the PH level, sanitizer/disinfectant kill rates, equipment cost, warranty, frequency of filter replacements in gallons or other replacement items, and return on investment. Also, it is important to have staff feedback on the effectiveness of the system — how the chemical produced annually removes the needed soils on surfaces.

In restrooms, specifically, I also do a "smell test." The systems must be effective at eliminating odor-causing bacteria because we won't use strong disinfectants that contain deodorizers. When a restroom is properly cleaned, there should be no smell at all because urine salts and residues have been properly removed.

While testing and evaluating the efficacy of each system, we also took the average yearly cost of chemicals these systems would replace and gathered data from each company on cost of units and cost of replacement items. To understand filter replacements in gallons used, you need to first understand your consumption of existing ready-to-use chemicals at each location and calculate filter replacement frequencies.

Part of your evaluation process also needs to include the consideration of where each system would be located, as well as the number of units required at each facility in your district.

Some systems must have a main unit at each location with the possibility of multiple main units in larger locations such as middle schools, high schools or other buildings with multiple levels. Other systems can function with one main unit and multiple satellites in larger buildings or just satellites in smaller facilities. And other systems have the capability to have main units and the ability to have smaller devices easily moved.

Another avenue to consider when choosing an engineered water system is your funding source. When you have gathered all of your information, it is now time to sell your concept to the administration for funding.

For us, this was actually the easiest step. We received approval and funding utilizing capital assets to install systems in 90 percent of our district at the end of one fiscal year, and funding approved for the remaining buildings at the start of the second fiscal year.

Keep in mind, you can look into leasing options, but it is more beneficial to purchase outright. It was very important for our department to not piece meal upgrades over several years, but to make the change at one time for continuity of our cleaning program.

Through our public bid process, we established a request for proposal to bid our unit of choice, allowing vendors or manufacturers to quote an equal product. After appropriate testing and evaluation of bids submitted, the best choice for our district was Orbio Technologies.
next page of this article:
School Shares ROI Of Engineered Water
---