Cleaner Floors Are Safer Floors
Evaluating Floor Safety Programs
---
BY Rob McNealy, MBA, WACH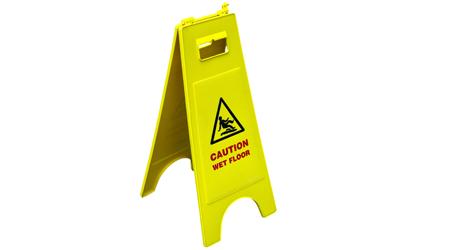 There's no doubt that walkway accidents are often directly related to improper maintenance. As a walkway auditor and floor inspector, much of my consulting work revolves around evaluating floor coverings and substrates for safety, installation defects and manufacturer warranty claims. I am also routinely retained by attorneys to determine the coefficient of friction (COF) of floor surfaces. So what is the COF and how does that relate to slip-and-fall accidents?

COF is a test to measure the traction level of floors. This is often done using a tribometer, which measures on a meter of 0 to 1 — the higher the number, the higher the traction will likely be. Because slip-and-fall accidents happen due to reduced traction between the foot and the floor surface, the reading can tell us a lot about the conditions leading up to the accident.

Contaminates such as soil, dirt, sand and sticky spills are commonplace on floors. These substances can lead to unsafe flooring surfaces, but many custodial departments are very good at cleaning this up in a timely manner. However, a large number of slip-and-fall accidents actually happen due to contaminates from cleaning residues left on the floor.

When cleaning crews use improper dilutions, use the wrong cleaning chemicals or improperly rinse the cleaning product away, these contaminates can build up on floors over time. This accumulation is known in the flooring industry as polymerization — when soils, greases, and cleaning residues combine and build up on the surface. Polymerization reduces a flooring surface's COF, making it less safe to walk on.

To test the COF of a hard floor, start by testing the flooring as it is. This will determine the "baseline" state of the floor. Then, retest the same location after it has been cleaned or stripped back to its "as manufactured" state. The two numbers should then be evaluated to determine how contaminants may be affecting the floor's COF. If there is a big difference between the two levels of COF, improper maintenance is usually the cause.

If a slip and fall has occurred, and the victim launched a liability lawsuit, the first place lawyers will look is the maintenance program and COF. If tests show improper maintenance, the facility may be considered legally negligent. That could have a devastating impact on the company.
previous page of this article:
The Cost Of Slips And Falls For Facilities
next page of this article:
Tips To Reducing Slips, Trips And Falls
Disclaimer: Please note that Facebook comments are posted through Facebook and cannot be approved, edited or declined by CleanLink.com. The opinions expressed in Facebook comments do not necessarily reflect those of CleanLink.com or its staff. To find out more about Facebook commenting please read the Conversation Guidelines.