The Right Fit
Ergonomic Benefits Of Backpack Vacuums
---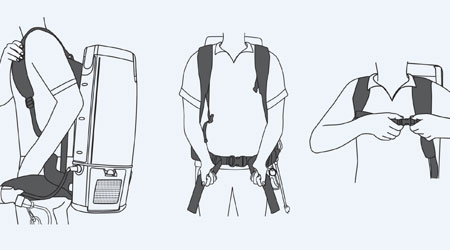 Gene Woodard learned the hard way about the dangers that can lurk if the right steps are not taken when purchasing backpack vacuums.

Previously, the director of custodial services at the University of Washington, Seattle, typically had the vacuum distributor briefly demonstrate proper fit to his custodial staff. Days later, the custodians would get their vacuums and off they went.

He never gave it much thought, until about a year ago when he saw the findings of an ergonomic survey given to the university's custodians that showed the staff overwhelmingly rated backpack vacuuming as the task that created the most discomfort, even more than cleaning toilets.

"We quickly found that people had ill fitting harnesses and they did not know how to make the adjustments," Woodard says.

To address the issue and alleviate worker discomfort, Woodard brought in an ergonomist and the manufacturer to help train the roughly 250-person cleaning staff on the proper way to fit a backpack vacuum. Now, every custodian who vacuums at the university gets his or her own backpack vacuum, and must be able to demonstrate they know how to properly fit the machine.

Since the training focus on ergonomics, Woodard has done a second staff survey to gauge the success or failure of the departmental efforts.

"This survey showed significant improvements in the comfort levels of the respondents in terms of their shoulders and backs," he says. "So we know the training worked."
Before Fitting
There is more to training on backpack vacuums then just proper fit. Managers and trainers must articulate benefits of these machines, including how efficient they can be if used properly.

Custodians should understand that keeping the vacuum on for long periods of time and vacuuming large areas all at once, rather than taking it off frequently, leads to more efficiency.

"I always encourage people to look at how the vacuum works into their cleaning program," says Jeff Merrihew, a consultant at Concepts4, a New York-based cleaning consulting firm. "The process of taking the vacuum on and off leads to bad habits. It leads to wearing the vacuum unstrapped or putting it on over one shoulder. Or, in some cases, putting the vacuum in a bucket and dragging it behind them."

Tasking staff with consistent vacuuming will prevent them from having to put the machine on and take it off multiple times.

Another step managers must consider is an assessment of whether the worker is fit to be able to do the job, says William Griffin, president of Cleaning Consultant Services Inc., in Seattle.

"Not everyone is suitable for a backpack vacuum because it is physically demanding work. So getting the right person is the first step," says Griffin.
next page of this article:
Steps To Strapping On A Backpack Vacuum
Disclaimer: Please note that Facebook comments are posted through Facebook and cannot be approved, edited or declined by CleanLink.com. The opinions expressed in Facebook comments do not necessarily reflect those of CleanLink.com or its staff. To find out more about Facebook commenting please read the Conversation Guidelines.