Dixon Boosts Clean with (OS1)
---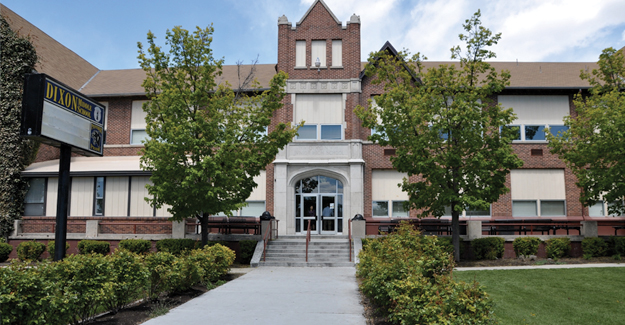 Operation: Custodial operation at Dixon Middle School
Location: Provo, Utah
Space Being Cleaned: 130,000 square feet
Employees: Head custodian and six sweepers (custodians)
Certification: (OS1)
Certification Achieved: May 2011

When Dixon Middle School began the (OS1) process, ManageMen's baseline audit showed depressing results. Its custodial operation rating was six on a scale of zero to 100.

"We were pretty well in the basement and had a long way to go," says Jeff Hawkins, head custodian at Dixon Middle School.

Fast forward to May 2011, when ManageMen returned to audit the 80-year-old Provo, Utah, facility for (OS1) certification. After just nine months of operating under the (OS1) system, the facility achieved a score of 80 and netted (OS1) certification.

"We have also branched the program into two other schools," says Jeff Hawkins, head custodian at Dixon Middle School, who predicts that 20 schools in the district will also achieve (OS1) status.

To launch the program, Hawkins attended the 40-hour management training class, Janitor University, in January 2010, after which he quickly began implementing (OS1). His first step was a thorough sweep of inventory.

"Most of the equipment was a mess," he says, so the district replaced all of it, adding backpack vacuums with four-stage filtration and double-chamber mop buckets.

Chemical changes included a move to multi-purpose and color-coded preportioned chemical packets. The shift brought inventory down from 50-60 different chemicals to just three and provided ease of purchasing. Hawkins can now budget at the onset of the school year because he knows exactly how much chemical is needed to clean the facility each day.

"Before (OS1), purchasing was just guesswork," he says. "I didn't know how much we needed because one employee might glug a little more chemical into a bucket than another. Now, we're saving money on chemicals because they are being diluted in the correct ratios so we're not wasting them."

The (OS1) program has also helped improve safety while promoting green. Hawkins monitors all MSDS (material safety data sheets) and documents product inventory so he knows exactly what is used in the buildings and where. Employees also receive comprehensive training on how to handle the green chemicals and why the facility chose 100-percent recycled paper products.

Implementing the new green products lead to the second step in the (OS1) journey: assessing the ineffective, and often lack of cleaning at the school. This realization resulted in a 16-hour training boot camp — 15 hours and 45 minutes longer than the previous training, says Hawkins.

In this training, he stresses the team cleaning approach, where cleaners work as a unit as they move throughout the building. This process ensures 100 percent of the building is cleaned, 100 percent of the time. Team members include light-duty specialists, restroom specialists, vacuum specialists and utility specialists.

"They rely on each other to take care of the building as a whole rather than an area or zone," he says, and stresses the importance of providing meaningful feedback to the employees. "It's important for cleaners to know they're performing an important job."

Hawkins advice to others moving through the (OS1) certification process is simple: Take your time. Spend time researching the program, the changes certification entails and the financial obligations that must be met.

"It's not like you can decide on a Monday to go with (OS1) and on Friday be running (OS1)," he says. "It's a major decision and there is a financial obligation involved with replacing equipment and chemicals, adding training and getting everything set up."
Click here to read profiles on facilities that have qualified for certifications such as LEED-EB, GS-33 and CIMS.

Ronnie Garrett is a freelance writer based in Fort Atkinson, Wis.
Disclaimer: Please note that Facebook comments are posted through Facebook and cannot be approved, edited or declined by CleanLink.com. The opinions expressed in Facebook comments do not necessarily reflect those of CleanLink.com or its staff. To find out more about Facebook commenting please read the Conversation Guidelines.