Evolving With EVS
Determining EVS Protocol In Healthcare Facilities
---
BY James DeGraff, Associate Editor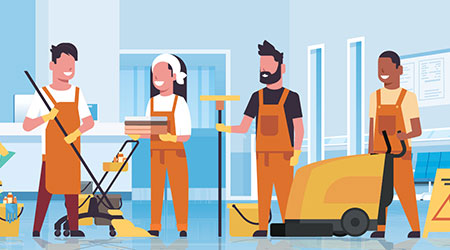 While few associate an environmental services (EVS) staff with the daily pressures of a hospital or healthcare facility, the cleanliness of an isolation room or surgery suite can play as much of a factor toward a patient's wellbeing as the quality of a nurse, doctor or surgeon.
Recent Centers for Disease Control and Prevention (CDC) findings estimate the average cost of a single hospital-acquired infection (HAI) at $15,000; a figure that can escalate quickly with highly-contagious pathogens prone to cross-contamination. A relentless commitment to protocol, training and innovation are the cornerstones of top EVS staffs — teams which often represent healthcare facilities with the lowest infection rates nationwide.
Establishing Effective Protocol
The scale of healthcare facilities and hospitals vary, but the expectations are no different for EVS teams when it comes to covering the vast majority of surfaces in patient rooms, restrooms, lobbies, operating rooms and waiting areas. Wayne Bledy, certified environmental services executive by IEHA, recommends a checklist for resident rooms, patient rooms and restrooms to ensure high-touch areas aren't forgotten, as even the most experienced cleaners can have a mental lapse.
"EVS is responsible top-to-bottom when it comes to cleanable square footage, disinfecting anything a resident or patient will touch," says Cherry-Hill, New Jersey-based Bledy. "Even if it seems like second nature, a list for a patient room will include the doorknob, light switch, toilet seat, paper dispensers, bedside call-bell and TV remote, just to name a few."
When it comes to the cleaning of medical equipment and specialty areas throughout a healthcare facility or hospital, Jack McGurk, president of Systems Improvement Initiators, Inc., Fair Oaks, California, and Michael Patterson, executive director of IEHA, Westerville, Ohio, say the responsibilities often fall outside of EVS.
"Nurses administering chemotherapy drugs in an infusion area often clean the patient area between cases. Pharmaceutical technicians clean pharmacy compounding areas. And x-ray technicians are responsible for the equipment residing in surgery suites and rooms," says McGurk. "Nurses are also often responsible for maintaining the cleanliness of computer stations or mobile computers."
Bledy notes that EVS will often cover the cleaning of wheelchairs, but little more as far as equipment is concerned.
"Wheelchairs would routinely be power washed and disinfected on a bi-weekly basis, in addition to a post-discharge disinfecting prior to a new patient's use," says Bledy. "EVS in some facilities will also disinfect and power wash the medical carts, but that's about all that would be covered on the medical side."
In larger-scale facilities especially, Babette Beene, environmental services director at MD Anderson Cancer Center at the University of Texas, Houston, says the high frequency of daily discharges and check-ins on a daily basis doesn't typically allow for the focus on additional equipment and areas.
"We have up to 150 discharges each day, so management wants us to primarily worry about disinfecting the room itself," says Beene. "We focus on disinfecting and cleaning out the drawers, restrooms, shower curtains, bed and surrounding area, chairs and pull-out couches."
Cleaning frequencies for the EVS staff are dependent on the status of patient rooms and the condition of the occupants. Beene recommends in-patient rooms receive a standard clean at least once per day, noting that not every surface will be covered. Following a discharge and prior to a new patient entering the room, a terminal clean should be conducted, which includes the top-to-bottom cleaning and disinfecting process including bedding and walls. Terminal cleans in isolation rooms also include the removal of all bedside and shower curtains, Beene adds.
"Our standard method for EVS is typically a disinfectant spray for the majority of surfaces in the patient rooms," says Beene. "We'll allow the disinfectant the necessary contact time, and then come back through and wipe down the surfaces thoroughly. In certain isolation cases, we'll complement the process with an ultraviolet (UV) light treatment."
The frequencies of public spaces such as waiting areas and walkways allow for a more straightforward protocol, with the surfaces in these areas receiving hourly treatment with disinfectant wipes, Beene adds.
Rich Feczko, national director at Crothall Healthcare, Wayne, Pennsylvania, says the optimal disinfectant option is dependent on the type of patient room and severity of the case. He believes a quaternary disinfectant is sufficient for patients that don't have a specifically contagious or threatening condition.
Isolation patients, on the other hand, could require a heavier-duty, sporicidal disinfectant. The key, Feczko adds, is ensuring that standard or heavier duty cleaning requirements for different rooms are relayed to the EVS staff, as an error could be critical to the wellbeing of not only patients and staff, but visitors, as well.
Equally important to any protocol is training, both from the onset and at regular intervals. Beene says MD Anderson implements a multifaceted onboarding process for all EVS employees, including 15 annual online training sessions for staff to complete every year. The curriculum is based on different parts of the facility — including the intensive care unit (ICU) or regular patient care rooms — and goes over handwashing protocol, safety tips and mandatory surfaces in the cleaning process.
Employees are trained on each section of the facility, which includes not only cleaning processes but protocol for bloodborne pathogen spills, needle removal and other hazard-based scenarios. "To make sure the education is retained, we test staff," says Beene. "If they fail to get 80 percent, they have to repeat the training."
Throughout the week, Beene says EVS staff is monitored for handwashing and correct execution of protocol by both housekeeping management and infection control teams to ensure there aren't any inconsistencies. But instead of creating an over-the-shoulder work environment, it's important to keep interactions positive and commend a job well-done.
"Rewarding our staff is essential for positive morale," says Beene. "If we catch employees doing the right thing, we'll reward them and post it on our message board to show we're noticing and appreciate them following all of the protocols."
next page of this article:
Overlooked Touchpoints Lead To Cross-Contamination