Facility Focus: Robotic Revamp
Denver Public Schools Embrace Autonomous Autoscrubbers
---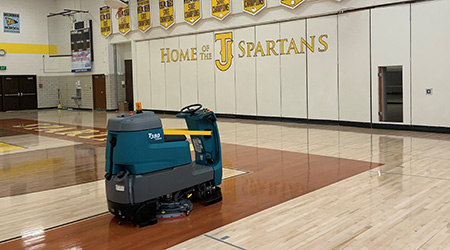 After years of fighting — and failing — to keep up with the Denver Public School District's floor maintenance program, director of operations Richard Archuletta was ready for a change. He was ready for robots.
Robotic floor care is nothing new. Equipment has been in use for decades, but the technological advancements that have occurred in the last 10 years have launched robotics into the spotlight. In fact, the technology improved enough for retail giant Walmart to deploy a fleet of autonomous autoscrubbers in over 360 of their stores in 2018. Today, the global market for the device is expected to grow to $1476.26 million by 2026, according to market research firm Research and Markets.
The appeal of the latest models for facility cleaning executives is that they are truly autonomous.
"There are tons of robots out there," says Archuletta, referencing the multitudes of automatic lawn mowers, playing field markers and parking lot stripe painting machines on the market. "But they need an operator's guidance to stay on track."
The bodies to provide that human guidance is exactly what the school system is lacking. The Denver Public School District's cleaning and maintenance department faced serious funding and job vacancy gaps before COVID-19 hit. The pandemic exacerbated the problem to acute levels. Presently, the school system shows some 120 open cleaning and maintenance positions, a number that translates into about "75 percent of staff left to do 100 percent of the jobs," according to Archuletta.
Working at three-quarters capacity means that after completing all the necessary health and safety maintenance, lavatory cleaning, trash removal, kitchen and cafeteria service, and classroom cleaning, there was little bandwidth left for maintaining the floors. And the floors showed it.
next page of this article:
Floor Equipment That Helps Minimize Downtime