A Lesson In Cleaning
Cooperative Cleaning Helps Schools Reopen
---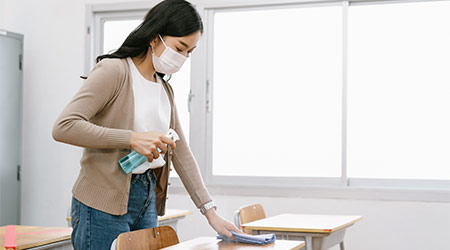 As schools begin to reopen, facility cleaning managers nationwide are increasing disinfection practices — an undertaking that has put a strain on departmental budgets, as well as frontline workers. Faced with these challenges, more K-12 schools are implementing cooperative cleaning programs that mitigate the impact on custodial workers, many of whom were already stretched thin before the pandemic.

Indeed COVID-19 has ushered in a new appreciation for the cleaning profession and the work custodians do — and custodial managers consider this shift in paradigm essential for creating effective cooperative cleaning programs.

"In the past, I've seen tense relationships between teaching and custodial staff because of a misunderstanding of what cleaning is," says Ben Walker, chief operating officer of ManageMen, Inc., Salt Lake City. "Now, because of the pandemic, teachers are starting to accept that they are equal partners in the cleanliness of their classrooms."

Such is the case for the Provo City School District in Provo, Utah. During the summer, Jeff Hawkins, custodial services coordinator, devised a plan for teachers and students to assist with cleaning processes in classrooms. The school district also hired personnel to disinfect high-touch points throughout the day.

"Hiring staff and the increase in chemicals and personal protective equipment (PPE) have taken a toll on our budget, but being able to use faculty, staff and the student body has resulted in savings that would be difficult to put a number on," says Hawkins. "Without them, it wouldn't have been possible to do the disinfection that we deem necessary."
It Takes A School
For Hawkins, the transition to cooperative cleaning has been a smooth one: The school district has been providing disinfectant to teachers since 2010 as part of its standardized cleaning program.

"The biggest change came in having students apply disinfectant, mostly in junior high and high schools, because of the frequency of class changes," says Hawkins. "We branded a standardized message that in order for this to stay afloat, we're going to need their help to disinfect these surfaces."

Like Hawkins, Ricky Martinez, district custodial manager for Salt Lake City School District in Salt Lake City, is enlisting the help of students and teachers to wipe down desks when schools reopen. To ensure that everyone is working in unison, Hawkins and Martinez train their head custodians, who in-turn train faculty and administrative staff.

"We rely on a hybrid approach," says Martinez. "We train in Zoom meetings, and our head custodians talk to teachers one-on-one in their classrooms. We also have a YouTube channel that staff can refer to, and we provide our protocols in writing."

Prior to the pandemic, a number of teachers at Salt Lake City schools wiped down their desks using products from home. Now, the custodial services department provides teachers with options they themselves prefer — either hydrogen peroxide or engineered water in spray bottles for use in the classrooms.

To ensure faculty and staff use the assigned products — and use them correctly — Martinez relies on a proactive leadership team and the support of school principals.

"For many, it's a culture change and they're skeptical about it," he says. "So don't wait for them to ask questions. Load them up with information about the products and processes you're using, because they're going to want to know."

In fact custodial managers have found that transparency and ongoing communication are crucial to the success of cooperative cleaning. At Albuquerque Public Schools in Albuquerque, New Mexico, John Dufay, executive director of operations, has weekly Zoom meetings with principals, nursing services and teachers to discuss their role in cleaning, as well as answer their questions.

"The biggest issue is communication," says Dufay. "If you have two or three teachers in a group that don't understand what you're doing, then you have a problem because they feel disconnected. You have to communicate the protocol, your expectations and what you are and aren't going to do."

For head custodians, educating faculty is often a venture into unfamiliar territory, which is why Martinez focuses on training his staff in communication skills.

"Part of our training covers how to communicate and build relationships with teachers so that you can gain their trust," he says.
next page of this article:
Keep It Simple When Disinfecting
Disclaimer: Please note that Facebook comments are posted through Facebook and cannot be approved, edited or declined by CleanLink.com. The opinions expressed in Facebook comments do not necessarily reflect those of CleanLink.com or its staff. To find out more about Facebook commenting please read the Conversation Guidelines.