Healthcare's Biggest Odor Offenders
Controlling Healthcare Odors
---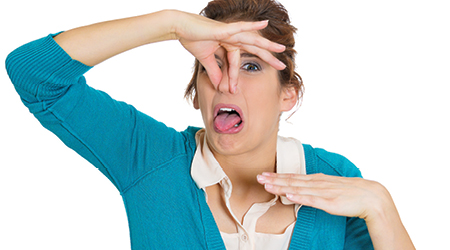 When walking into a hospital or long-term care facility, one might expect to be greeted by a receptionist. Unfortunately, very often it's an odor noticed first — and anyone in the cleaning business knows, that's a recipe for trouble.

A bad smell is more than a nuisance. It has the potential to cost a healthcare facility money. It can damage the facility's reputation, keeping potential patients away and preventing repeat business. It can also negatively affect customer satisfaction scores, which the Centers for Medicare & Medicaid Services uses (in part) to assess reimbursement amounts.

"If you walk in the front door and smell urine, that sets the tone for your experience," says Doug Green, regional director of environmental services at Mercy Hospital Springfield, in Missouri. "When you smell an odor, you start questioning everything else. It's all about perception."

Sometimes, odors indicate an ongoing problem with cleanliness. Very often, however, they are simply left behind after a cleaning issue has already been resolved. Either way, all that matters is how a visitor perceives them.

"You can have a temporary odor and it doesn't mean the facility wasn't cleaned an hour before," says Tami Bristol, housekeeping supervisor at Divine Savior Healthcare, Portage, Wisconsin. "But it's all about perception. When people walk in and smell odors, they'll think the facility isn't clean and nobody wants to go to a dirty facility."

In short, no healthcare facility wants an odor to be its calling card.

"It can label your facility," says Jessi Moffatt, environmental services director at Shady Lane in Manitowoc, Wisconsin.

That's why odor management is so important in healthcare settings, where the potential for nasty smells lurks around every corner.
next page of this article:
Healthcare Odor Hot Spots