Educate And Engage
Closing The Loop On Training Challenges
---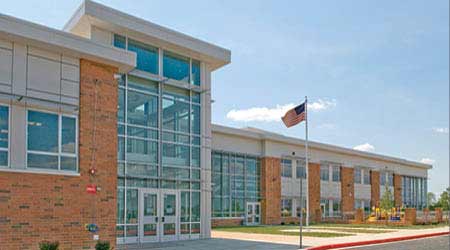 To address the primary concerns among staff, Carnahan proposed streamlining and simplifying traditional training, while adding some new methods to the mix.

One straightforward but powerful program is called Close the Loop, which Carnahan developed to improve communications between custodians and school leaders. In the past, a lead custodian had standing, structured meetings with a principal to discuss the work happening in the building. It was a cumbersome and frustrating process for both parties.

Now, all custodians are empowered to communicate with school leaders and other staff. They check in when they arrive on a job site, then announce their departure, and share an update about why they were there and what they accomplished.

"This might seem like a self-explanatory concept, but it resonated with our team in amazing ways and has changed the way we do business," Wilkinson says.

The process reduces the amount of time school leaders spend dealing with cleaning issues, helps them better understand what custodians actually do, and gives them an opportunity to provide direct and immediate feedback.

To introduce the Close the Loop program to the custodial department, Wilkinson and Carnahan sought help from the district's instructional staff who typically train teachers. They put together an on-site session that included a presentation with PowerPoint slides. They also used interactive breakout sessions where custodians and principals had to communicate how they would handle some tricky, hypothetical scenarios.

"We like to think you learn by being pushed from your comfort zone," Wilkinson says. "We try to come up with techniques that accomplish that without making employees totally uncomfortable."

Although FCPS still employs occasional in-house trainings, they are less common since the district has stopped using pre-canned plans from vendors. Now, they are offered only as needed, to brush up on specific skills that have been identified by management.

"We're not at the mercy of the trainer anymore," Wilkinson says. "We deal collaboratively with them to come up with a solution. They adapt their training to our needs."

Today, it's rare to have all 365 custodians gather in the gymnasium for training during the summer. Instead, the district uses Google Hangouts. In-house talent are tapped to share their knowledge by recording training webinars that custodians can watch at their leisure.

"It's just-in-time training," says Carnahan. "We use it for things like snow removal safety and annual custodian inspections. It's always pertinent to what's going on in the employee's daily life at the time."

Carnahan also uses social media, such as Twitter, to disseminate information to the staff and public. This is helpful in the professional development process, and also in giving recognition of custodial success to staff, students and the community. It's just one more way of making the custodial team feel valued.

This new approach has allowed Wilkinson and Carnahan to more effectively use funding earmarked for training. They say they spend thousands (not tens of thousands) of dollars on training each year. It's not free, but it's also not cost prohibitive.

"The money we've spent on training has been an investment in our people," Carnahan says. "When you turn over people, that gets very expensive."
previous page of this article:
School District Bucks Turnover Trends
next page of this article:
Identifying Emerging Cleaning Leaders
Disclaimer: Please note that Facebook comments are posted through Facebook and cannot be approved, edited or declined by CleanLink.com. The opinions expressed in Facebook comments do not necessarily reflect those of CleanLink.com or its staff. To find out more about Facebook commenting please read the Conversation Guidelines.