A Positive Push for IAQ
Cleaning Chemicals That Help Indoor Air Quality
---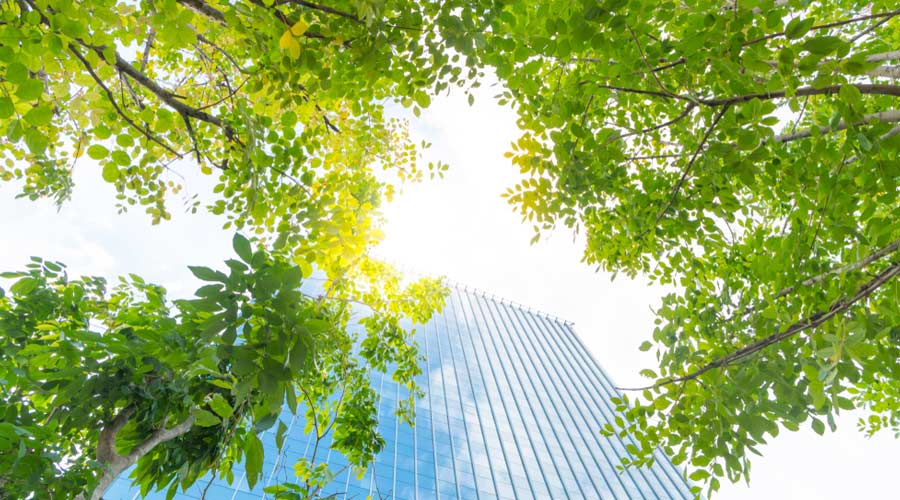 As a result of the COVID-19 pandemic, cleaning professionals across the U.S. have been inundated with new guidelines and requests to improve the indoor air quality (IAQ) inside facilities. Even though many pandemic precautions are fading, the demand for clean, healthy air in indoor spaces isn't going anywhere anytime soon.
The average American spends roughly 90 percent of their time indoors, further reiterating the need to keep indoor spaces clean, healthy and safe for guests and occupants. However, when cleaning and disinfecting to keep building guests and occupants safe from illness-causing germs such as coronavirus, monkeypox, influenza and other viruses, janitorial staff can actually be contributing to an unhealthy environment.
Now, readers may be thinking that cleaning removes dirt and other potentially hazardous soils while disinfecting eliminates germs from surfaces. How can cleaning and disinfecting cause harm?
The answer is volatile organic compounds, or VOCs. VOCs add to air pollution and contribute to poor indoor air quality. In fact, studies show that indoor concentrations of VOCs are often up to seven times higher than those outside.
Unfortunately, VOCs are not only a potential problem when using certain cleaning and disinfecting products, but can also be found in chemicals used for floor maintenance and other janitorial procedures. For example, when a cleaning team is stripping a floor to bring back its glossy brilliance and restore the floor's appearance for guests, the process can actually be adding harmful pollutants (in the form of VOCs) to the air.
What Are VOCs?
VOCs are chemical compounds within a product that have a high vapor pressure and low water solubility. When used, they form gases that are emitted into the air. VOCs typically are industrial solvents, such as trichloroethylene; fuel oxygenates, such as methyl tert-butyl ether (MTBE); or by-products produced by chlorination in water treatment, such as chloroform.
VOCs are commonly found in cleaning products in the form of solvents and fragrances.
Many common commercial cleaning products used to maintain facilities have VOCs. This includes: Floor care chemicals, including floor stripper; cleaners and degreasers; glass cleaners; metal polishers; restroom and tile cleaners; and more.
Poor indoor air quality has a direct effect on human health. It has been linked to several adverse health effects including but not limited to headaches; fatigue; dizziness; irritation of eyes, nose, or throat; respiratory disease; heart disease; and cancer. The effects of poor indoor air quality can be exacerbated by age, pre-existing medical conditions, the amount of pollutants present, and repeated exposure.
Depending on the type of facility managed, this can create several issues.
Poor IAQ in schools can create long- and short-term health effects for students and staff, which can impact their performance. In the short term, students may have reduced attendance, comfort, and performance. Eventually, this can inhibit growth and development in the classroom, leading to long-term developmental gaps.
Businesses can experience worker callouts, reduced staff productivity, and increased illness among employees — all because of poor indoor air quality.
Poor air quality can also be detrimental to the well-being and experience of customers who visit a facility.
There is no number or rating that identifies "good" indoor air quality. To determine a facility's IAQ, air is sampled and individual measurements of common pollutants are tested. The air quality is calculated by measuring the amount of air pollutants in a facility against OSHA (Occupational Safety and Health Administration) guidelines.
OSHA's exposure limits should be used in addition to limits set by Cal/OSHA, the National Institute for Occupational Safety and Health (NIOSH), and the American Conference of Governmental Industrial Hygienists (ACGIH).
An area that does not exceed any of the recommended exposure limits during testing is considered to have a "good" IAQ.
Improving IAQ
While a major part of keeping occupants and other building guests healthy is protecting them from getting sick via respiratory and other illnesses, cleaning professionals need to consider the implications of the cleaning and/or disinfecting, floor care, and other janitorial chemicals their maintenance teams source and use. There are two major tips facility managers should keep in mind when sourcing chemicals.
Tip #1: Verify Product Third-Party Certification
To improve the health and safety of an indoor space and protect the occupants and guests inside, cleaning managers should seek out commercial cleaning chemicals that have been third-party certified to be "low-emitting" or "VOC-free." These chemicals have been tested and verified by third-party agencies to meet standards for acceptable VOC contents.
That said, VOC limit regulations can vary by product type, chemical compound, and even geographical location. There is a rage of third-party agencies that are currently testing and verifying a range of products for safety and sustainability. Seek guidance from a local distributor on what to look for on the products utilized.
Tip #2: Utilize Product Safety Data Sheets (SDS)
In addition to looking for third-party certifications, cleaning executives should seek safety information on any given cleaning chemical from the product's Safety Data Sheet, which is more commonly known as the SDS.
The SDS lists all of the hazards along with the product's chemical ingredients. Also listed in the SDS are the first aid measures, exposure control/PPE (personal protective equipment), and toxicological information needed to properly evaluate the potential risks from using the product.
Per OSHA regulations, the SDS for every chemical on premises needs to be accessible by front-line staff. The SDS is available from the distributor or the manufacturer.
All-in-all, exposure to VOCs is unavoidable, but minimizing guest and occupant exposure is principle to creating a safe, healthy indoor environment.
Lauren Belskie is a major contributor and the primary editor for the Imperial Dade Learning Center, a platform designed to answer common questions, provide insights on trends and offer creative solutions to help businesses create safer, healthier, and cleaner facilities. She is the Marketing Operations Manager at Imperial Dade, producing articles, videos, trainings, and other educational content targeted to the janitorial services market.
---