A Clean Sweep For School Breakfast
Cleaning Challenges With Breakfast In The Classroom
---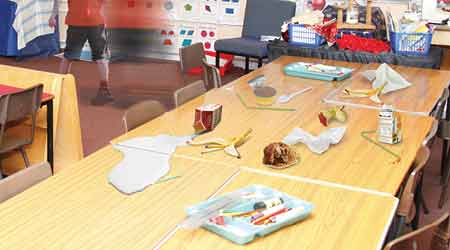 Salt Lake City School District rises to the challenges of administering breakfast in the classroom

At 7:45 a.m., the bell rings and the cafeteria doors open. Students file into the cafeteria in orderly lines, and each person receives a plastic bag. At 8:00 a.m., the bell rings again, and the children proceed down rows of tables, selecting food items and placing them in their bags. In less than 10 minutes, every child has selected a nutritious breakfast and makes their way to their respective classroom.

This is the start of a typical day at Backman Elementary School, one of the first schools in the Salt Lake City School District to pilot Breakfast in the Classroom. The district rolled out the program at four schools in April 2016 after witnessing its success at a neighboring school district.

Today, seven Title 1 schools in the Salt Lake City School District have chosen to participate in Breakfast in the Classroom, instead of serving a traditional breakfast in the cafeteria.
Food For Thought
More than 8.1 million children nationwide start their day with the School Breakfast Program, a federal initiative that provides states with funds for non-profit breakfast programs in schools. The program provides nutritious food for children that might otherwise go hungry.

"There's so much research showing that a good breakfast in the morning is essential for learning," says Rochelle Davis, president and CEO of the Healthy Schools Campaign. "But programs where you eat breakfast in the cafeteria before class haven't been very effective; namely because of the stigma that comes with being singled out for being poor or eligible for the program. Also many kids take buses to school, and they don't arrive in time to eat in the cafeteria."

For these reasons, Davis is seeing more schools starting to offer breakfast in the classroom.

"The program has been shown to dramatically increase the number of kids that eat," she says. "But it's a big change of protocol, and one of the common barriers is the impact it has on the cleaning program and the cleaning staff."

According to Davis, a successful Breakfast in the Classroom program requires a partnership between maintenance and food service. The two must work together and discuss issues related to cleaning, garbage and pest management.
next page of this article:
A Team Effort Keeps Schools Clean
Disclaimer: Please note that Facebook comments are posted through Facebook and cannot be approved, edited or declined by CleanLink.com. The opinions expressed in Facebook comments do not necessarily reflect those of CleanLink.com or its staff. To find out more about Facebook commenting please read the Conversation Guidelines.