Case Study
Citi Field Focuses On Safe Walking Surfaces In Jackie Robinson Rotunda
---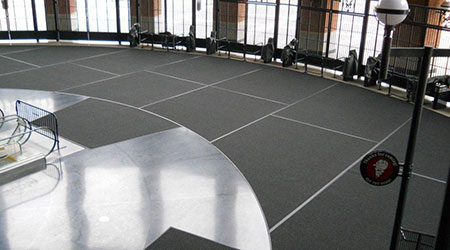 Contributed by Proform
Citi Field, home of Major League Baseball's New York Mets, illustrates a perfect example of the value that a strong matting program brings to larger facilities with unique walk patterns. Typical entry matting comes in stock sizes of square and oblong. Citi Field's circular rotunda design made these stock matting options a poor choice for creating a safe, attractive and functional matting program.
The open design resulted in no distinct walk pattern and the terrazzo flooring created slip, trip and fall hazards when wet. Conventional square or oblong mats proved unsuccessful for the space, so the facilities team worked with the Proform design team to create entry matting that worked. The Proform design team was able to divide the space into pieces that come together to cover the floor. With the use of a customer-provided CAD floor plan file, Proform was able to come up with a series of potential layouts from which to choose.
"Entry matting needs to be where people are naturally inclined to walk, which is often the shortest distance between two points," said Proform experts. "Once we understand the ingress points and the destinations, Proform can create layouts on the customer's floor plan that cover the walk area at risk."
The Citi Field project was cut on site for a perfect fit by Certified Proform Installers. Heavy-duty ADA safety edging was then stitched around the outside perimeter of each mat.
"We have many projects where we do not edge between mats, but only around the outside perimeter of the area," said Proform experts. "That helps to create the appearance of a single matted area even though there might be many pieces." Finally, storage cores are used for the matting at Citi Field. When mats are not in use, using the cores during storage ensures that mats always lay flat when needed.
Proform's goal is always safety and function, but high-quality design should be just as important to Class A properties. Citi Field did not insert a corporate logo in their layout. However, many facilities do use mats to reinforce their brands and create a strong first impression on visitors and guests.
Proform uses high-quality nylons, polypropylenes, track matting and rubber in their matting systems. Typically, with proper care, entry matting will last 5 to 8 years even in very heavy-use commercial environments.