The Case for Carpet Tiles
Carpet Tile Maintenance Tips
---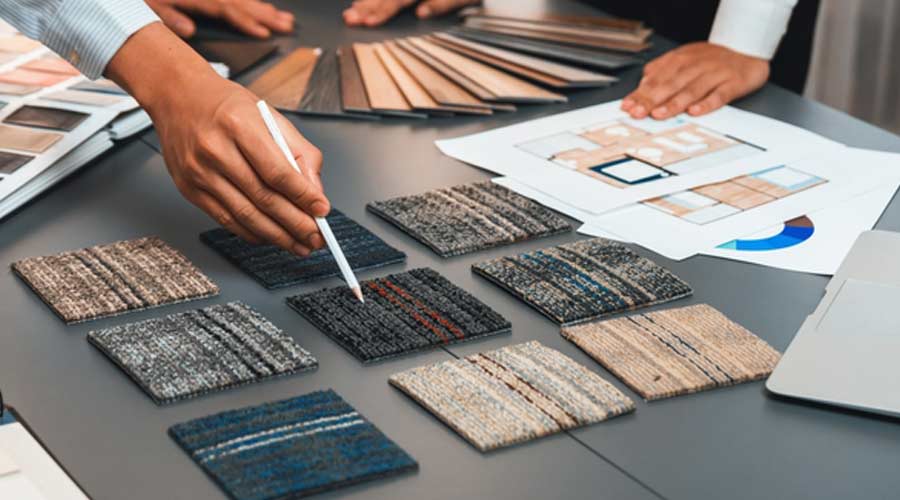 Although carpet tiles can withstand most cleaning processes, Griffin encourages facilities to avoid wet cleaning as much as possible. To keep carpets looking great, prioritize a comprehensive vacuuming schedule and implement spot cleaning when necessary.
"Most of the soil that's tracked into the building is dry, so removing that with vacuuming or low-moisture processes is faster and more effective than trying to flush it out with water," says Griffin.
In fact, cleaning consultants highly recommend low-moisture cleaning methods for modular carpets. Not only do the tiles respond well to these processes, but low-moisture cleaning allows custodial departments to extend out the extraction cycle.
"If you normally extract your carpet once a year, you can use a semi-annual or quarterly low-moisture cleaning method to pull surface soil out of the carpet and extend extraction to every two to three years," Hulin advises.
Delaying extractions reduces the opportunity for over-wetting carpet tiles — plus the tile's composition lends itself to less water usage during the process. As Hulin points out, operators are less likely to over-saturate carpet tiles because the fibers are tightly woven and do not need to be penetrated deeply to remove soils.
Although carpet tile maintenance is simple, consultants stress the importance of training staff on proper carpet cleaning procedures and equipment usage.
"If workers don't understand the difference between light and deep cleaning, and the importance and value of vacuuming, you're not going to get the return on the product," says Griffin. "For example, if you're only wet-extracting, and you're not vacuuming first to get the dry soil out, that soil will wick back to the surface when the water evaporates. Training and certification of the individuals doing the work is critical."
While improper maintenance procedures can damage carpet tiles and shorten their lifespan, consultants admit that most of the problems with carpet tiles arise from installation. Griffin recommends following the manufacturer's specifications not only for installation of the tiles but for the adhesive, particularly if they are made by two different companies. Additionally, floors should be tested for moisture per the manufacturer's recommendations prior to laying the tiles.
"In most cases, the tiles have a waterproof barrier that will trap moisture," Griffin explains. "It's not so much that the moisture will damage the carpet, but you may get mildew and mold growth below the tile."
With sustainability at the forefront in many facilities, Segura recommends confirming that the tiles are manufactured with materials that have a positive impact on the building's sustainability goals.
Consultants agree that carpet tiles have had a positive impact on the carpet industry, and the manufacturing process has improved significantly over the years. According to Hulin, sales are starting to overtake those of traditional carpets — albeit slightly. And while there will always be a need for broadloom carpets, modular carpets are proving their worth in a wide range of applications.
"Carpet tiles were a nightmare when they first came out, but they have come a long way," notes Segura. "They used to be unattractive and limited in appearance, but now they come in a variety of different patterns and designs. They may not be as beautiful or plush as traditional carpets, but in the commercial world, they do the trick. They give a good appearance to the building, and their maintenance and cleaning does not have a negative impact on cleaning staff."
Kassandra Kania is a freelance writer based in Charlotte, North Carolina, and is a frequent contributor to Facility Cleaning Decisions.
previous page of this article:
Why Carpet Tiles are Viable for Facility Flooring