Using Earth Day To Promote Cleaning
Boast Cleaning On Earth Day
---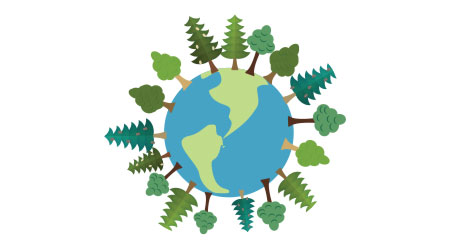 While Earth Day is officially April 22nd, it is often celebrated throughout the entire month of April. And for many cleaning managers, Earth Day is a time to promote awareness of various greening activities, increase occupant appreciation of facility management, and emphasize the need for organizations to invest in facility cleaning. As such, it is a terrific opportunity for managers and their staffs to showcase their expertise in green cleaning. Doing so can teach building occupants about the health and environmental benefits of using greener products.

One of the most effective ways to accomplish this is to put the department on display and be transparent about the products and processes used at the facility. Invite cleaning vendors in to "exhibit" some of their green cleaning products and tools, demonstrate proper product use, highlight innovative technologies, or possibly raffle off products building occupants can use at home.

Some examples of products and equipment to showcase can include:

Green Cleaning Chemicals: Show off some "certified" chemicals (i.e. Safer Choice or Green Seal) and discuss how third-party certifications make it easier for purchasers to buy with confidence when considering the complex issues of reducing impacts on health, safety, environmental impacts and performance. Many of these certifiers have approved products that building occupants can purchase for use in their own homes, which can be especially valuable for those with infants and small children, elderly, those with compromised health (i.e. someone undergoing treatments for cancer) and other health conditions (i.e. asthma or chemical sensitivities).

Dispensers for Concentrated Products: Show off chemical dispensers or premeasured packets and explain the benefits of using these, compared to "glugging" concentrates into the bucket. In addition to using products more efficiently, these strategies reduce environmental impacts and save money, each of which can be addressed. One way to discuss this with occupants is relative to concentrated laundry detergents where many waste product and money by using too much detergent.

On-Site Generators of Cleaning Products: If the facility is using or testing some of these new technologies, exhibit them. These are the future of cleaning chemicals. They significantly reduce impacts compared to traditional chemicals by reducing or even eliminating the effects of mining raw materials and turning them into cleaning chemicals.

Green Hand Soap: There is nothing more important in protecting health than good handwashing. Exhibit your "green" hand soap and explain why handwashing is so important. Also, discuss that the Centers for Disease Control and Prevention (CDC) does not recommend hand soap with antibacterial ingredients (i.e. Triclosan). They have found no evidence that these ingredients accomplish anything more compared to soap without these ingredients. Also consider a discussion about hand sanitizers, including when and when not to use them. Vendors may also be willing to provide samples to give to occupants.

Vacuums and High Filtration Bags: Show a high-filtration vacuum cleaner and bag so building occupants can see what is being removed from the environment. Backpacks and battery machines can also be interesting discussion topics. Be prepared to discuss strategies that will help differentiate a high- versus low-quality vacuum, and the need to use high-quality vacuum bags.

Automatic Scrubbers, Floor Machines and Robots: Occupants enjoy seeing big pieces of equipment, including scrubbers that produce their own cleaning solutions and/or recycle water, floor machines that reduce dust from stripping floors, and robots. Building occupants will find these types of "high technology" interesting, and might be interested to learn of their environmental benefits.

Paper Products with Post-Consumer Recycled Content: Show samples of paper products with post-consumer recycled content and explain their environmental benefits. If using hands-free towel dispensers, consider showing one and explain why these dispensers reduce cross-contamination, compared to those with hand cranks and levers. Many manufacturers of paper products can provide information about the specific environmental benefits, such as the number of trees saved, or reduction in water and waste from the manufacturing process. If manufacturers are unable or unwilling to provide this information, there are numerous online tools that provide paper calculators to help do this.

Microfiber Cloths: Display samples of microfiber cloths and, better yet, see if your vendors will provide some giveaways. In addition, be prepared to explain why microfiber products are better compared to using paper towels or sponges. There are different qualities, different blends depending on the use, color coding to minimize cross-contamination, and the stitching on the edges affects how many times they can be laundered. Keep in mind that these simple products can lead to conversations about why effective cleaning is so important to protecting the health of building occupants.

Entry Mats: Exhibit an entryway mat and explain why it is important to capture the dirt/soils before they enter the building, and that there are different types of mats depending on weather and other considerations.

Mops and Buckets: Microfiber flat mops and dual-compartment mop buckets create an opportunity to talk about reducing cross-contamination, avoiding simply spreading dirt around, and strategies to reduce water consumption. Plus, these items often can be made with post-consumer recycled content and improved durability, both of which can reduce environmental impacts and save money.

Plastic Can Liners: Mangers should showcase plastic can liners made with a high post-consumer recycled content and which are sized to fit receptacles. Be prepared to discuss the environmental benefits of why using products with recycled content is valuable. Vendors of these bags can provide environmental savings information to help with the discussion.

Beyond the products, showcase any awards or recognitions that the facility and custodial department may have received. This could include certifications from the U.S. Green Building Council (LEED), ISSA's CIMS Program, Green Seal's Service Standard, Healthy Schools Campaign's Green Cleaning Award, or similar awards from U.S. Environmental Protection Agency and others.

Other messages that will hit home with building occupants are those that tell the story specific to the facility. For example, consider creating a poster that illustrates the changes that the facility has made compared to 5 years ago. Identify the various environmental savings from products and changes to processes. These savings can be quite significant and offer a good visual clue to the facility's improvements. Vendors should be able to help quantifying these figures. Furthermore, this information can be used in your organization's internal newsletters and other measures used to update occupants and other interested parties.

In the end, Earth Day can be an opportunity to inform and educate occupants about the importance of facility management and green cleaning to reduce unnecessary impacts on the environment and protect health.

STEPHEN ASHKIN, often regarded as the "Father of Green Cleaning," is the founder of The Ashkin Group and Sustainability Dashboard Tools. He also serves on the board of directors for the Green Sports Alliance and is the executive director of Green Cleaning Network.
Disclaimer: Please note that Facebook comments are posted through Facebook and cannot be approved, edited or declined by CleanLink.com. The opinions expressed in Facebook comments do not necessarily reflect those of CleanLink.com or its staff. To find out more about Facebook commenting please read the Conversation Guidelines.