Can-Do Canisters
Advantages To Canister Vacuums
---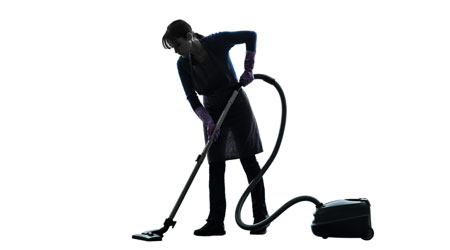 Canister vacuums are proving their worth as a viable alternative to backpacks and uprights
Canisters share many of the merits of backpack vacuums, yet they are often overlooked in commercial cleaning applications. Some custodians find them bulky and difficult to transport on cleaning carts, while others favor their maneuverability, ergonomic benefits and extended reach.

According to Allen Rathey, principal of the Healthy Facilities Institute, Meridian, Idaho, one of the reasons canisters elicit a negative response from some users is because they require a different mode of operation.

"We are creatures of habit, so if you're used to an upright, you might find a canister cumbersome," he admits. "It's like riding a bicycle. You either learn how to use it and integrate it into your cleaning routine, or you don't."

Despite the learning curve, proponents of canister vacuums say that with proper training, custodial professionals may prefer canisters as a productive alternative to backpacks and uprights, depending on their facility's needs.
Keeping It Simple
Canister vacuums are often as powerful as uprights when it comes to suction — and in some instances, more so. Their weight is evenly distributed on wheels, allowing for a larger motor, which offers potential performance advantages. Canisters may also be a strong choice for addressing indoor air quality concerns.

"Larger motors can drive air through larger filters, so you can have a more robust filter [with a canister]," Rathey says. "They also have a sealed body, so there are fewer places for dust to leak out."

Like backpacks, canisters have fewer moving parts than uprights, resulting in less downtime and repair costs.

"One of the major benefits of canisters is less maintenance," notes Bill Griffin, president of Cleaning Consultant Services, Seattle. "Generally, there are no belts involved, and they have good air flow, so you can pick up larger objects without worrying about them getting caught in the hoses or the belts."

And because filter maintenance on canister vacuums is a simple process, users are more likely to change filters when needed.

"Maintaining filters is easier on a canister than an upright," notes Ben Walker, principal consultant, ManageMen Inc., Salt Lake City. "Most canisters have a lid that you can open to pull the filter out and exchange it. And if you're using a canister with a beater bar attachment, you need to empty your filters every couple of hours, otherwise you'll lose suction and you won't be able to manage the dust levels in your building."
next page of this article:
Canister Vacuums Offer Ergonomic Benefits
Disclaimer: Please note that Facebook comments are posted through Facebook and cannot be approved, edited or declined by CleanLink.com. The opinions expressed in Facebook comments do not necessarily reflect those of CleanLink.com or its staff. To find out more about Facebook commenting please read the Conversation Guidelines.