A Clean Sweep For Sin City
A Facility Cleaning Manager's Guide To ISSA Show North America
---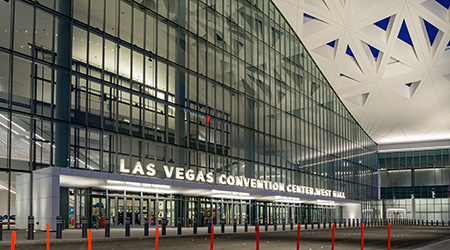 The city of Las Vegas may be synonymous with gambling, but this year's ISSA Show North America promises to be a safe bet for risk-averse attendees and exhibitors looking to advance cleaning for health.
The annual convention and trade show takes place from Nov. 15-18 in the newly expanded West Hall of the Las Vegas Convention Center (LVCC). Visitors can be rest assured that they are safe as they navigate the show floor: In 2020, LVCC earned STAR Facility Accreditation from the Global Biorisk Advisory Council (GBAC), a division of ISSA, for its cleaning, disinfection and infection prevention protocols.
After conducting much of their business virtually due to COVID-19, facility managers will appreciate a change of pace as they walk the exhibit floor, connecting with colleagues face-to-face and meeting with exhibitors for hands-on product demonstrations. The all-access pass grants them entry to the exhibit hall plus all educational sessions, as well as invitation-only networking events.
"I am most looking forward to seeing the industry together again after two years to share insights, experiences, view products and see innovation," says Amie Gilmore, show director. "There is a great lineup of speakers at ISSA Show North America, as well as networking opportunities."
Home to more than 500 exhibiting companies, the trade show floor is divided into specialty areas and pavilions designed for attendees to target specific areas of interest. To help simplify things, exhibiting companies new to the show will be grouped in the First-Time Exhibitor Pavilion. Additional pavilions feature vendors focused on international products, residential cleaning, and specialty cleaning and restoration, among others.
In addition to a packed show floor, the event offers countless opportunities for networking before, during and after show hours.
On Monday evening, Nov. 15, ISSA members can enjoy drinks and a panoramic view of the Las Vegas skyline from the brand-new terrace of the Las Vegas Convention Center. Happy hour will be followed by the ISSA Welcome Reception at Beer Park in the Paris Hotel. Here, ISSA members can sample a variety of beers while mingling with colleagues prior to the week's events.
On Tuesday evening, networking continues in a series of roundtable discussions. These question-and-answer sessions allow attendees to share their ideas and gain valuable feedback from other cleaning industry professionals to advance their business.
next page of this article:
Educational Tracks For In-House Attendees