Readers Of This Article, Also View:
Reduce Cost, Improve Floor Care Equipment Productivity with Training -

Sponsored Learning
Hand Dryers Mean A Greener Blueprint For Schools
CASE STUDY: School Touts Sustainability With Hand Dryers
---
BY CleanLink Editorial Staff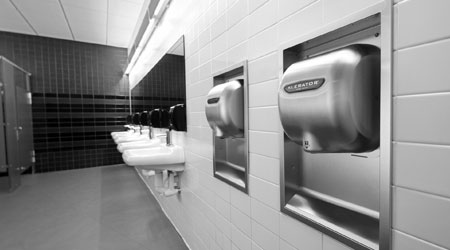 Submitted by Excel Dryer, Inc.

It was four years ago that the southwestern Massachusetts community of Longmeadow formally dedicated its proud new construction — celebrating a near-decade of proposals, planning and perseverance toward a better-built high school.

"We sat with the architect for a year and a half to design the building, and the build itself took a year and a half," said longtime Longmeadow High School Principal, Lawrence Berte. "The students wanted this new building to be modern and up-to-date, and we wanted a facility that implemented environmental best practices."

One of those best practices was the installation of XLERATOR Hand Dryers from Excel Dryer, a family-owned business located in neighboring East Longmeadow.

Tested to guidelines from the Global Hand Dryer PCR, published by UL Environment, the XLERATOR uses 80 percent less energy than conventional hand dryers, while drying hands faster. It also represents a 95 percent cost savings when compared to paper towels, eliminating labor, maintenance and waste.

Cost savings was an important factor in choosing the XLERATOR for Longmeadow High School, which has approximately 1,000 students, 100 teaching faculty and a support staff of about 25.

"The XLERATOR was an easy option for us," Berte said. "With a building that has roughly 1,200 people coming in, you not only have the use of paper towels, you also have disposal and maintenance costs. Our facility managers are thankful they're not cleaning up a paper towel mess every night."

In addition to its proven cost- and energy-efficiency, the XLERATOR's modular design and low failure rate makes it a reliable and easy-to-service hand dryer.

Longmeadow High School opted to install XLERATORs not only in the restrooms, but also in other areas that went through a lot of paper, including locker rooms and science rooms.

"Whenever we could reduce paper with an XLERATOR, we did so," Berte said.
The whole building process was used as an educational tool to teach the students about the importance of sustainability.

"We had a lot of discussion about how we were going to make this an environmentally friendly school," said Berte. "Those green initiatives and environmentally sound practices have been incorporated into our curriculum work, as well."

The new school itself has received positive responses from students, faculty and the community as a whole.

"We came from a very old building that lacked space, technology and light, and all of those things come with this new building," Berte said. "Plus, the kids have a different attitude here. When they see the dryers or any other new products in this school, they tend to take care of it."
Disclaimer: Please note that Facebook comments are posted through Facebook and cannot be approved, edited or declined by CleanLink.com. The opinions expressed in Facebook comments do not necessarily reflect those of CleanLink.com or its staff. To find out more about Facebook commenting please read the Conversation Guidelines.