Case Study
Workloading And Bidding Software Help BSCs
---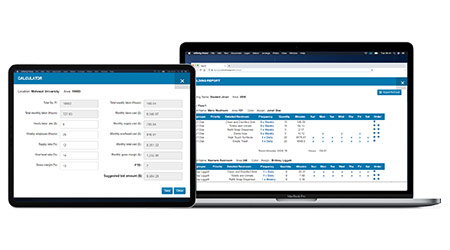 Contributed by Janitorial Manager
Like many building service contractors, Kevin Scott, owner of Office Pride Commercial Cleaning in Rancho Cucamonga, California, was experiencing stress as the COVID-19 pandemic continued to impact his business. Many of his accounts closed during these challenging times, and the accounts that remained open were requiring more cleaning and disinfecting services, and did not understand the costs involved.
Adding to his frustration were multiple start-up businesses offering office sanitizing services at low, bottom pricing with no knowledge on cleaning for health. Scott knew he had to educate his customers on the increased need and cost of services, maintain his existing accounts, and seize the opportunity to grow his business. Using the Janitorial Manager Work Loading and Bidding Tools with Building Reports helped Scott accomplish success and grow his business during these unprecedented times.
The Janitorial Manager tool allowed Scott to build out a detailed workloading document for rooms, floors, areas or entire buildings, complete with all of the activities his essential cleaning crews would be performing. It even allowed him to adjust frequencies not only by days per week, but also by instances per day.
Since the Janitorial Manager program was pre-loaded with the ISSA 612 Cleaning Times, he could communicate with his customers that he was using industry standards to validate the time he was spending at their facilities. In some cases, Scott needed to add additional activities he performed, such as electrostatic spraying. The system had the flexibility to address these instances.
Once he was finished detailing the services he would be performing, the Janitorial Manager bidding calculator allowed him to see how many employees he would need to perform those services. It also helped calculate a fair price for the work, assign employees to tasks, and print out a professional bid document for his customers. If he needed to make changes to his service offering, he could adapt his build-out and compare times and pricing on various scenarios.
As an added benefit, Scott could share the detailed building plan with his customers, who in turn displayed it for staff and visitors. That level of transparency communicated that facilities were a clean, healthy and safe business environment.
Occasionally, Scott and his sales team would need to provide a quick bid to a prospective customer. Janitorial Manager had him covered there, as well. With the Quick Bid feature — which is pre-loaded with many facility types, rooms and cleaning activities — Scott could rapidly create a bid with times, tasks and pricing to meet immediate needs.
By taking advantage of the tools and knowledge the Janitorial Work Loading and Bidding Tool provides, Scott was able to prove the value of what his custodians do, and justify the importance and worth of his business to maintain a strong bottom line and position his company for future growth.
Disclaimer: Please note that Facebook comments are posted through Facebook and cannot be approved, edited or declined by CleanLink.com. The opinions expressed in Facebook comments do not necessarily reflect those of CleanLink.com or its staff. To find out more about Facebook commenting please read the Conversation Guidelines.