Green Cleaning
Why Green Chemicals Are Important to Cleaning Businesses
---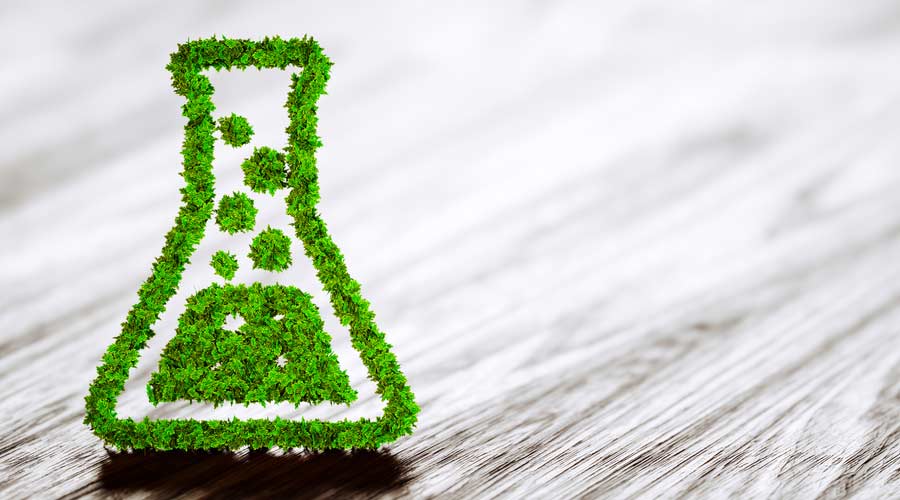 One of the reasons companies hire janitorial services is to remove germs and allergens that threaten the health of their customers and employees. Yet, ironically, the harsh cleaning solutions used to accomplish this goal often contain chemicals that cause health issues, including headaches, eye irritation, skin rashes, and breathing problems. Plus, when disposed of, these chemicals can seep into water sources, impacting water quality and affecting wildlife.
In the 21st century, Americans are more health and environmentally conscious than ever before. They have seen chemicals once thought to be safe — including cleaning products, pesticides and food additives — pulled off the market when they were discovered to pose a cancer risk. This awareness goes hand-in-hand with the increasing popularity of green cleaning.
What Is Green Cleaning Exactly?
To put it simply, green cleaning is cleaning using products that are safe for humans and for the environment.
Most traditional cleaning products contain volatile organic compounds (VOCs), which are known to be harmful. A person can be exposed to VOCs by inhaling them, or by simply touching a surface that has been recently cleaned with them. In contrast, most green cleaning products are free of phosphates, chlorine, artificial fragrances and colors.
The History of Green Cleaning
For the first half of the 20th century, most people believed that they needed to use harsh, toxic chemicals in order to protect building occupants from germs that could cause illness. By the 1960s, scientists began to question that belief and started exploring how those chemicals could negatively impact a person's health and the health of the environment. By the 1970s, the EPA began linking exposure to certain chemicals to many medical conditions, including cancer.
The Hesitation Over Going Green
By the 1980s, some consumers and business owners began to look for ways to clean without these harsh chemicals, only to find products that were more expensive and less effective than traditional chemical solutions. While this may have been true at the time, green cleaning has come a long way in last 40 years.
Green cleaning products on the market today are just as effective — if not more effective — as traditional toxic cleaners. They work by breaking chemical bonds that make up dirt, grease and other residues. Once the bonds are broken, it's easier to rinse away the grime.
The price point of these products is now more comparable to other cleaning solutions, too. There are a couple of reasons for this. "Green" options are often super-concentrated, making them more economical. And, with interest in green cleaning continuing to rise, there's a lot of competition between companies trying to develop new and better chemical-free cleaning solutions.
The Benefits of Going Green
There are many benefits to switching to green cleaning operations. Most of all, a green program protects employees from the hazards of repeated exposure to harsh chemicals. It's a move that will save operations from loss of work due to sick employees and may help retain employees who appreciate the switch. Companies will also be doing their part to help keep the environment healthy. Going green may also help the bottom line by attracting new customers who want to work with eco-friendly businesses.
Beware of 'Greenwashing'
When transitioning to a green company, it's important to be careful to choose the right cleaning products. Some companies that want to cash in on the popularity of green cleaning make generic claims like "eco-safe" or "environmentally friendly" on their products. This practice is known as "greenwashing." It started in the 1980s when companies realized they could market themselves as "green" without having to support these claims.
To make it easier to identify cleaners that don't contain hazardous chemicals, the Environmental Protection Agency established the Safer Choice program, which certifies products that contain ingredients safer for human health and the environment. It also places the Design for the Environment (DfE) label on antimicrobial products such as disinfectants and sanitizers. 
The global non-profit Green Seal also certifies products that are safe for humans and the environment.
Green Cleaning Is Here to Stay
Stratus Building Solutions began offering green cleaning to our customers in 2009. Now all the products we use are Green Seal certified, as well as non-toxic, biodegradable and fragrance-free. They contain low volatile organic compounds (VOCs), which create a cleaner atmosphere when cleaning, keeping the indoor air quality clean for people in the facility.
If your janitorial company is still using harsh chemicals to do the job, it's time to reconsider. You will build loyalty among employees who don't have to worry about getting sick from the toxins they are exposed to. You will also be doing your part to help the environment. And as more and more businesses search out eco-friendly cleaners, going green may put more green in your pocket.
Doug Flaig is the president of Stratus Building Solutions, a janitorial services franchise organization based in San Jose, California, where he ensures that franchisees and customers receive world class service. Doug has spent over 20 years in the world of multi-unit retail with Dunkin' Donuts, Burger King, 7-Eleven stores and Wetzel's Pretzels overseeing hundreds of franchise retail locations. Additionally, he spent 6 years in the "constant whitewater" world of mobile telecom overseeing a team that built and modified cell towers and other telecom infrastructure. Prior to joining Stratus Building Services, he served as chief operating officer with Safe Facility Services, a janitorial services provider headquartered in Thousand Oaks, California.
---