Supply Chain Struggles
What Global Supply Chain Disruptions Mean for the Contract Cleaning Industry
---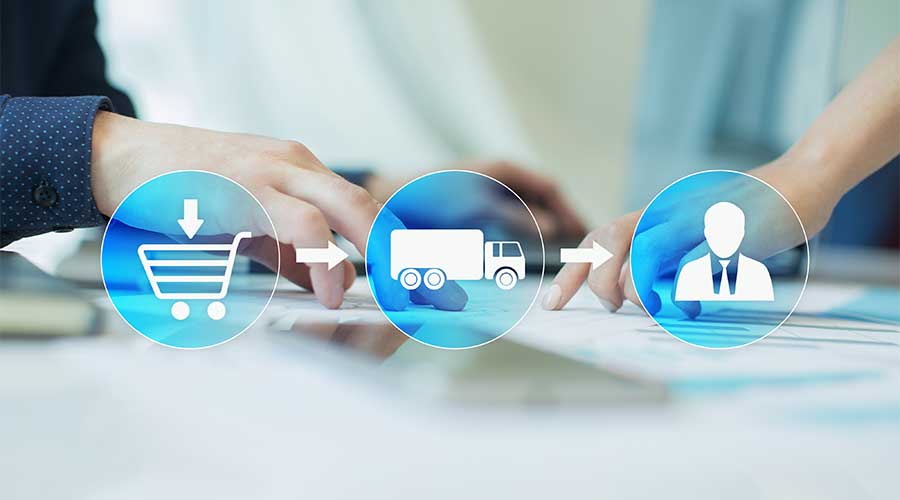 When the COVID-19 pandemic hit in 2020, no one could have predicted its impact. Fast forward two years, and the effects of the pandemic still linger, particularly in terms of supply chain disruption. The building services industry is no exception. Christian May, deputy chief executive officer and chief sales officer of Kärcher North America, sums up the end-to-end issue.
"All companies — all over the world — are facing supply chain issues," he says. "There are problems starting with material shortages and ending with pricing."
For example, hand sanitizer quickly became a day-to-day essential as COVID-19 spread across the globe. According to Rich Clark, supply chain strategy systems and solutions vice president of GOJO Industries, Inc., the demand for hand sanitizer was higher than any other time in history and remained at a heightened level for many months, thus putting tremendous strain on the supply chain. Although the industry tried to meet the growing demand by introducing new manufacturers into the space, new constraints emerged, which touched everything from bottles to pumps to ethanol.
"To help meet demand, we leveraged alternate suppliers and executed supply agreements as needed to secure supply," says Clark. "As material supply constraints eased, we had to respond to manufacturing and distribution constraints created by labor availability challenges. As global supply chain challenges began to impact domestic distribution, outbound logistics capacity and transportation resource shortages became constrained."
Clark added that, eventually, overseas supply chain issues impacted the availability of the chemicals and ingredients GOJO sourced domestically, due to the supplier's reliance on internationally sourced feedstock. To help meet higher levels of demand in future surges, they made significant investments in their manufacturing and distribution capabilities.
Diversey's chief procurement officer, Julia Velichko, is no stranger to change in demand. With COVID-19 forcing countless factory closures, immediate recovery became difficult.
"In the petrochemicals industry, there are all sorts of delays that we are experiencing in the supply chain due to these factory closures," says Velichko. "It's not like you can close the door and then immediately open it again. It has become more challenging to access key raw materials for our products."
Pivoting During a Time of Ongoing Challenges
COVID-19 lockdowns only exacerbated the existing challenges within the supply chain. With people forced to stay inside to prevent further spread of disease, no one could work on the production lines where products were manufactured.
"The COVID-19 lockdowns meant major production interruptions and widespread shortages of people on production lines," says May. "The supply chain was not getting the fuel it needed to continue. If one part of the supply chain is disrupted, then the entire process is disrupted. We are still experiencing lockdowns in some areas of the world. Additionally, there are logistical implications. For example, transportation has become exceedingly difficult because of cross-border restrictions."
With what seems like a constant stream of disruptions, Velichko and her team at Diversey are tasked with sourcing alternatives for their customers. One of their solutions has been to modify product formulas to ensure customers' needs are still being met regardless of these disruptions.
"We have had many meetings with research and development scientists because we understand that the worst thing for our customers is not having the product," says Velichko. "Sometimes we have the choice to go to customers, explain the issue at hand, and then offer them a substitution so that we maintain that relationship. Although there may only be a certain number of alternatives, we find it important not to shut down the customer."
According to Clark, although domestic sourcing, manufacturing and distribution operations have largely returned to normal, there is still a lot of variability in demand forecasts, which can make raw material sourcing, production and labor planning more challenging. There is also inflationary pressure, resulting in higher costs throughout the supply chain.
In response to these persisting challenges, Kärcher has re-focused its efforts in an attempt to further normalize operations after two years of volatility.
"Ongoing shortages are a big issue. Although there was a brief period of time without issue, lockdowns are still severe in China," says May. "Therefore, Kärcher has decided to focus on expanding regional operations and decouple supply chains to increase the local and regional production as much as possible."
Similarly, Velichko harbors concerns about lockdowns in China and how their role as a global shipment hub is proving taxing on business operations.
"Early on in the pandemic, we attempted to source shipping capabilities from different countries abroad," says Velichko. She references a map of China, specifically near Shanghai, from where Diversey is shipping. "The dots on this picture are ships that are waiting in the ports with product, some of which include our product. A quarter of the world's vessels are just sitting there, which creates an immense backlog of product. Although China has a lot of new petrochemical capacity, shipment reliability is up in the air."
However, with challenges comes the opportunity for learning and growth.
"We learned how essential it is to already have capacity, capability and extensive readiness plans in place to respond quickly when demand spikes," says Clark. "These things will help during the initial order spike and provide confidence that supply is available. Also, researching tier 2 and tier 3 supplier capability is critical to fully assessing supply resiliency."
Combatting Inflation
Among other issues, inflation has suppressed the consumers' willingness to spend. A reduction in spending has adverse effects on all facets of production, according to May.
"In the long run, it has impacted the supply chain because inflation means wages are going up and products are becoming more expensive," he says. "Pre-production is also becoming more expensive. We are also dealing with high logistics costs and high pre-production costs. Unfortunately, the impact of inflation on business operations is widespread."
Relative to inflation is the cost of raw materials, which has changed drastically since the onset of the pandemic. May, however, believes full transparency with consumers regarding price changes builds trust.
"There is copper, steel, oil, etc. — everyone knows the pricing of pre-materials. We had increases from single-digit percentages to 30-40 percent," says May. "We tried to announce early on when we had price increases and committed to being as transparent as possible. The price increase on the logistics side, for most of our customers, makes it very clear what is happening. They know why prices are increasing because the materials are publicly traded. If we do see a necessity to increase a price, we do not change it suddenly. We give customers adjustment time."
The reality stands that prices may not normalize in the near future, which is why Velichko and her team at Diversey believe in creating new efficiencies in their business.
"What we tell the customers is inflation is not going anywhere. I just discovered that we are using seven shades of red dye for our toilet cleaners in Latin America," says Velichko. "This is not the time to be luxurious. We all have to think about what is the leanest possible way to clean, disinfect and get the product working, but have it cost less."
The Impact of War and Preparing for Future Disruptions
Exacerbating the effects of the COVID-19 pandemic is the war between Russia and Ukraine. The ongoing conflict between the two countries has stunted the sourcing abilities of companies all over the world.
"Being in the United States, we are very far from the conflict in Europe, but you can see the correlation in crude oil where the price increased 123 percent since last year," says Velichko. "Diversey is similar to other chemical companies that make cleaning and sanitation products for buildings in that we're buying the derivatives of crude oil, so there's a major impact there."
Suffice it to say that the COVID-19 pandemic and the war in Ukraine will not be the end of supply chain disruptions. Therefore, preparation is crucial.
"GOJO is in a strong position to support our customers' needs today and into the future, thanks to significant investments in our manufacturing, distribution, and supply chain capabilities," says Clark. "Over the past 18 months, GOJO activated an additional 2.5 million square feet of manufacturing space, added three new manufacturing and distribution facilities, and expanded its U.S.-based supply chain capabilities, including vertically integrating supply for critical components like bottles and securing a captive source of high-grade ethanol through a strategic sourcing partnership."
May asserts that shifting to local operations is the best way to prepare. If production is closer to the selling market, moving product to customers becomes easier.
"There were a lot of things missing during the pandemic," says May. "On the retail side, many people stayed home, and the demand went up significantly. For us, demand was high, but we were facing material shortages. This created a big issue. Now, all our target groups are ramping up again. We are trying to pre-produce and trying to have long-term contracts for materials to secure supply and have a constant supply as much as possible."
Velichko agrees that owning a string of manufacturers has helped tremendously with regard to keeping Diversey's business moving in the midst of major disruptions.
"So far, we have remained operational. We have 18 factories that we own, and we also have 300 sub-manufacturers that we work with," says Velichko. "We did not shut down any of the factories throughout the pandemic, which is phenomenal. We are trying our best to reduce the capacity of the factories, but at least all our plants were in operation."
Understanding the Supply Chain
A fundamental understanding of the supply chain is essential for BSCs. The supply chain lies at the heart of all business operations. Being aware of its inner workings will only serve to better prepare BSCs for disruptions and provide them with the tools needed to pivot with challenges that may arise. There is a consensus that pre-panning is integral when combatting disruptions, which means having the right personnel with the foresight to prepare ahead of time.
"I think a lot of building service contractors are used to the short term and getting things quickly. They have to understand that this might not be possible anymore," says May. "We need more time up front, and the more we have, the better to really make sure customers get what they need. Although we cannot guarantee the availability of every machine, as long as there is flexibility in finding solutions with a customer, then we can overcome any challenge."