Floor Care Joins The Data Age
The Benefits Of IoT On Floor Equipment
---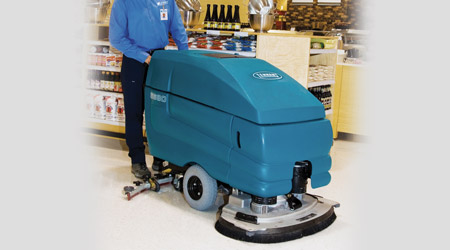 Floor equipment kept disappearing.

Whether this was because the equipment was being stolen or simply borrowed for work on another company contract, it became a major concern for United Services Group. The building service contractor needed a solution.

Management at United Services Group, Brampton, Ontario, Canada, had heard about Internet of Things–enabled floor machines that could solve the problem of disappearing equipment. But since United Services Group wanted to work with a manufacturer it knew well, the BSC turned to Minneapolis-based Tennant Company and its IRIS Asset Manager. United Services Group purchased more than 100 floor machines equipped with the new "smart" technology, which could report daily usage and help improve the BSC's quality of work, while also saving money. Most importantly, however, the IoT technology helped United Services Group identify and locate missing equipment.

United Services Group, which opened its doors in 1977, provides janitorial and landscaping services, as well as snow removal, parking and grounds maintenance, and ad-hoc services to a variety of industries. Its customers include retail stores, commercial buildings, healthcare and financial institutions, among others.

"We service more than 1,500 locations across Canada with a high focus on the retail market," says Alain Choucrallah, director of procurement for United Services Group.

United Services Group is particularly well known in its market for its knowledge and experience in floor care. But the BSC also prides itself on being honest and transparent with every client.

To uphold all these standards, United Services Group continuously looks for new ways to provide its customers with the best possible service. When management discovered United Services Group could improve on its quality of work and transparency through the telemetry features offered by IoT, the BSC was eager to bring the new technology on board. The IoT–enabled floor machines helped deliver an accurate account of United Services Group's cleaning performance at all of the locations that were using the new floor scrubbers.
next page of this article:
Making Sense Of Floor Machine Usage Data