Wearing Slip-resistant Footwear Reduces Workplace Accidents
Slip-and-fall Accidents Prove Costly
---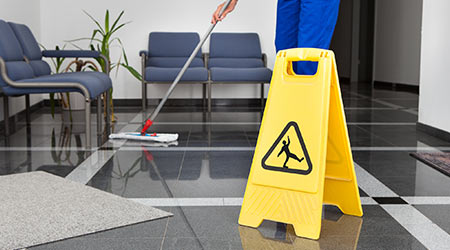 No matter how safe a facility may appear to be, slip-and-fall accidents seem unavoidable.

Each year, thousands of cleaning personnel fall victim to slip-and-fall accidents in the United States, resulting in sprains and strains, bruises and contusions, abrasions, lacerations, and fractures. Slips and falls are also the leading cause of death in the workplace and the source of more than 20 percent of all disabling injuries.

These incidents can be extremely costly to employers. In fact, according to the 2017 Liberty Mutual Workplace Safety Index, slips and falls in the workplace cost U.S. employers more than $18.4 billion annually. When adding indirect costs such as lost productivity and the time spent by management replacing injured workers, that figure rises to nearly $35 billion.

About nine out of every 10 falls happen when a person steps onto a wet surface. According to the Occupational Safety & Health Administration (OSHA), the causes of a majority of slips and falls range from walkways that are oily or wet, loose rugs or mats on the floor, spills of various materials, weather, poorly trained employees, and employees who are not wearing the right type of footwear.

Regardless of the cause, slip-and-fall accidents can cost building service contractors a great deal of money in liability. With the average cost of a slip-and-fall accident estimated at $22,800 per incident, and the average workers' compensation claim averaging $19,000, according to the National Safety Council, one of the easiest and most effective ways for BSCs to reduce such accidents and keep employees on their feet, is to invest in slip-resistant footwear.

"Anything you can do to help prevent a slip-and-fall accident is money well spent," says Clarke Hall, senior facilities consultant at Custodial Partners, LLC, a distributor in Newburyport, Massachusetts.
next page of this article:
Slip-resistant Footwear Reduce Cleaning Accidents