executive interview
Roman Chmiel, Scrub Inc.
---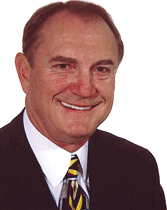 Scrub is a "one-stop shop for airlines" at O'Hare International Airport in Chicago.

In some respects, Chicago-based Scrub Inc. is a small fish in a big pond of building service contractors. As a local, mid-size company with only 1,000 employees, Scrub is battling against national competitors who employ more than 40 times its workforce.

But, look beyond its size and it is obvious that Scrub is a big player with a customer base including O'Hare International Airport, the Ritz Carlton, Hyatts, Hiltons and other major brand hotels. They service some of the biggest names in the Windy City.

And that's how Owner Roman Chmiel wants it.

"Our mission is not to be the biggest," he says. Instead, Chmiel wants to be the best. To do so, Scrub is very selective as to what accounts it takes on and Chmiel is not afraid to turn away business that doesn't suit his goals.

For the past 37 years, Scrub has built a reputation for success on its specialty — servicing 24/7/365-type accounts. This includes aviation, hospitality, education and healthcare facilities. Where the typical building service contractor might seek out accounts such as commercial office buildings, Chmiel comments that they don't fit into his vision for the company.

In fact, Chmiel knew early in his career that to succeed, he had to have focus. Diversifying too fast too soon is a mistake many contractors make when starting their business, he says. Instead, BSCs should start slow, develop competency in certain services and focus on the markets in which they know they can be the best at what they do.

That belief is so strong that the phrase "Quality, Integrity, Focus" was added to the company logo. And it is those three words that have set Scrub apart from its competitors since the beginning.

Getting started
Nearly 40 years ago, Chmiel emigrated from Poland with only a few dollars to his name. He began working for a cleaning contractor (now a competitor) because, at the time, it didn't require a formal education. A quick learner, Chmiel stayed only a year — just long enough to learn the trade and start his own company.

Scrub, a small window-washing company, was started in 1969 and was slowly expanded to include cleaning services. Then, two years later, Chmiel got the break he needed. He landed his first contract at O'Hare cleaning the Continental Airlines facilities and flight kitchen, an account he still holds today.

O'Hare has since become one of Scrub's largest contracts. Today, Scrub's duties at the airport include: cleaning public areas under the jurisdiction of the Department of Aviation in terminals 1 and 3 as well as exclusive spaces for domestic and international airlines, which includes public and employee areas. They also manage the Hygienic Toilet Seat Program and provide cabin cleaning services for passenger and cargo airplanes. Scrub's AirCheck division cleans the tarmacs, parking lots and garages, cargo bays and other outdoor areas as well as aircraft lavatory services and glycol recovery during winter de-icing operations.

Chmiel has positioned Scrub to be a "one-stop shop for airlines" with capabilities of handling even more. The company's versatility proved beneficial after Sept. 11 when airlines started concentrating on their own core competencies and began outsourcing more duties.

Expanding markets
Handling so many different areas of the airport gives Scrub the exposure to clean a multitude of environments. At the airport alone, staff members clean lobby areas, restrooms, kitchens, offices, conference rooms, classrooms, stores and food courts.

"It's very much like cleaning a small city," says Allan Berkowitz, Scrub sales manager and Scrub's former supplier. "There's a mixture of everything."

These experiences allowed Scrub to break into another specialty market — hospitality.

"We started cleaning hotels when Hyatt built one outside O'Hare. From there we expanded out to other hotels like Hilton and the Ritz Carlton," says Berkowitz.

Traditionally, hotels employ an in-house cleaning department, but Chmiel sees multiple benefits to outsourcing cleaning tasks, including letting hotel staff focus on their business and allowing cleaning contractors to focus on the upkeep, providing night supervision and having a pool of employees to cover absentees.

Scrub uses a "front of the house to back of the house" style cleaning, meaning they clean the front lobby areas and ballrooms plus the areas typically in the back of the hotel — kitchens and locker rooms. They leave the individual guest rooms up to the in-house cleaning department.

In addition to hotels, Chmiel is looking to apply similar cleaning techniques to healthcare facilities. With a few existing healthcare contracts, Scrub is positioned to offer another front-to-back set-up where it could clean everything except patient rooms.

Chmiel believes Scrub is capable of handling even more growth and is trying to use his varied experiences to handle malls (a market he once serviced, and is ready to return to) and to break into the public education market — beyond its current private school market.

Staying on top of your game
It's easy to say you want to be the best, but it's another thing to go out and do it. Scrub has picked one of the toughest markets to be the best in — aviation. Chicago's O'Hare airport is one of the busiest airports in the world with an average of more than 8,500 planes flying in and out weekly. Scrub is responsible for restocking and cleaning many of those planes whether they are stopping in or remaining overnight. If a flight is delayed, it can throw off the entire day's schedule. Managers and field workers need to be prepared to expect the unexpected.

"You don't know when you'll have several hundred people sleeping in cots, but you have to be ready for it," says Berkowitz.

Scrub's secret to managing unpredictability is to have a higher ratio of supervisors to workers than the industry average. Those supervisors are diligent about ensuring that cleaning crews are meeting expectations. In hotels, a quality assurance manager performs walkthroughs at least once a week and for all accounts, supervisors are at the building at least twice a shift.

"It's important to be with the customer, to be where the action is," says Chmiel.

To guarantee enough face time with the customer, all executives are required to be in the field for 60 percent of their day. Field management is behind a desk only 10 percent of the time — spending the remaining 90 percent out in the field with their staff and clients.

Besides unpredictability, the aviation market also means strict security measures. All staff members are required to undergo an FBI background check, be fingerprinted and wear visible identification badges at all times. Anyone spotted without a badge needs to be challenged and asked for identification. It isn't uncommon for undercover agents from federal agencies to walk badgeless around cleaning crews, testing workers. If they pass unchallenged, Scrub faces stiff fines and penalties.

These challenges don't faze Chmiel. Scrub has been built on quality — it's right there in the company slogan. At Scrub, the quality assurance personnel report directly to Chmiel rather than to an operations manager. This way he'll know when expectations aren't being met and can fix them right away.

Because of the way his company is structured, it is obvious to see that every Scrub employee emulates Chmiel's drive to be the best.

"We service facilities…where expectations are high," Chmiel says. "If you know the expectations and live up to them, your work culture will grow up with that and strive to be the best as well."

This philosophy has proved to be true. At Scrub, all employees want to be the best at what they do, from upper management to supervisors, all the way down the employee chain to the front line.

(A perfect example: While receiving a tour of the supply warehouse, I wasn't there two minutes before an employee came up and challenged me by asking for my badge.)

Quality, integrity, focus: the employees at Scrub truly believe it.

Personal success
Having taken strides to be the best in the industry, Chmiel is also focused on being the best employer. He makes it his personal goal to know every employee by name, creating a small-business-type environment. Even the Scrub headquarters creates a communal feel with its glass walls and "no-secrets" type atmosphere.

As an immigrant himself, it's not a coincidence that Chmiel has hired a diverse staff. The chief financial officer is from Chmiel's native Poland. Also on staff are workers from Mexico, the Czech Republic, China, the Philippines and Russia, among others. Field supervisors are bi-lingual and the company offers English as a second language for anyone who's interested.

"Diversity makes groups work together better," he says.

After 37 years of business, Chmiel is still excited to be living the American Dream. Although he is comfortable with the progress Scrub Inc. has made over the years, he knows it will continue to take hard work to stay the best.



---