The Cost Of Clean
Report Takes A Deep Dive In Cleaning Costs And Frequencies
---
BY Corinne Zudonyi, Editor-in-Chief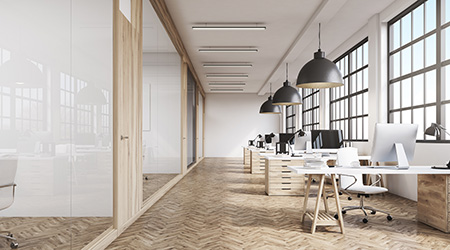 Not since the Great Recession has an event re-shaped the cleaning industry like the coronavirus pandemic. This is especially true in commercial offices, where operations stuttered and workers were sent home, leaving facilities to sit vacant for prolonged periods of time. As these same facilities now reopen, the cleaning demands are higher than ever.
These commercial offices make up the bulk of building service contractors' customer base. According to the "2021 Report On The Building Service Contractor Market," published by Contracting Profits and Building Service Contractors Association International (BSCAI), 83 percent of BSCs are strong in this market, and another 36 percent target it for growth.
Contracting Profits, along with its sister brands — Facility Cleaning Decisions and fnPrime — and BSCAI analyzed the commercial market further as part of the "Cleaning Costs And Frequencies Report." Commercial facilities were separated into two distinct types: corporate offices and multi-tenant offices. This report provides information regarding average price per square foot, janitorial budgets, staffing levels and cleaning frequencies.
There's More To This Research
Commercial offices are just a small sample of the "Cleaning Costs And Frequencies Report." Roughly 500 facilities representing a dozen facility types were surveyed about their cleaning operations. Data is also available for K-12 schools, government facilities, retail stores, industrial facilities, religious buildings, colleges/universities, hospitals, outpatient clinics and more.
The focal point of this report is a breakdown of cost per square foot based on facility type, as well as how those numbers compare to prices before the pandemic.
Included in the report are:
Price per square foot for 13 different facility types;
Staffing levels for night-time, day porters and project workers for a range of building sizes;
Price per square foot based on geographic region;
Cleaning frequencies of 16 tasks in these facility types: corporate offices, multi-tenant offices, K-12 schools, colleges/universities, hospitals/long-term care and government facilities;
Janitorial budget percentages for each facility type;
And more.