Faces of the Frontline: Jose Santos, Harvard Maintenance
Recognizing A Valuable Frontline Hero
---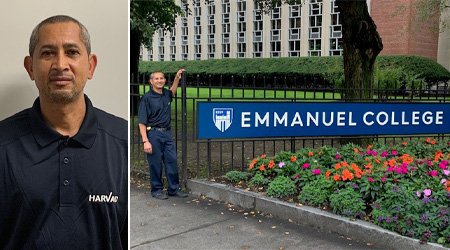 In an era where attention to detail is more important than ever, full-time day porter Jose Santos is more than up to the challenge each and every day for the Miami-based Harvard Maintenance. As an 11-year veteran of the staff, Santos had proven his value far before the COVID-19 pandemic hit, making him an easy decision to be included on a variety of high-profile special cleaning projects for Harvard.
On the team assigned to Emmanuel College in Boston, Santos is routinely relied upon by management to clean the President's house on campus among other key tasks, with both supervisors and occupants feeling assured with him on the job.
"Jose displays excellent interaction with clients, gaining their upmost trust and respect — becoming a valued member of the college community through extraordinary professionalism, accountability and a 'can-do' attitude" says Adam McHale, director of operations for Harvard Maintenance.
Aware that having a positive approach and strong work ethic is only part of the puzzle, Santos always makes a conscious effort to seek out areas for improvement, consistently communicating his ideas with management. It's his versatility that helps calm nerves and alleviate stress for everyone involved.
"Jose is always cognizant of his surrounding and proactive in reporting facility issues," says McHale. He routinely offers suggestions and ideas on how to be more efficient."
Each month this section will recognize an outstanding frontline janitor. To nominate a deserving employee, email corinne.zudonyi@tradepress.com.