BSC Finds Growth By Using Aqueous Ozone Technology
Reasons For Switching To Engineered Water
---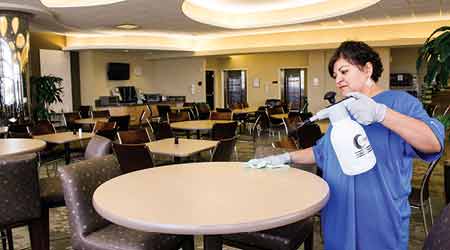 Like most independent businesses, Corporate Caddie Janitorial's beginnings were modest. The company, located in Council Bluff, Iowa, and serving the Omaha/Council Bluffs metro area, opened for business in 2009 with just one client.

"It was a large car dealership," says Ward Prine, president and CEO, who started the company with his wife Kelly (now vice president of operations) and his brother. "This was a really good learning experience because cleaning a car dealership, which we did six days a week, is a very tough job."

They held onto that account for two years, adding others — any others — to it, says Prine, explaining that initially they just tried to get accounts no matter what kind. They started adding employees in 2010, around this time taking on a small office building. By the end of 2013 they had 20 employees (or team members as Prine prefers to call staff) and by January 2014 the company tripled in size.

Today, Corporate Caddie's largest client is a healthcare system where they primarily clean medical office buildings. They service several commercial office buildings, as well. Prine says at this point the company is cleaning more than 1 million square feet per night.

Although Prine says they're taking a judicious approach to growth, expansion has been steady. And it's likely to accelerate, particularly as the company continues reaching out to the healthcare market, which Prine describes as their strength. One aspect that makes Corporate Caddie so attractive to this market is their use of engineered water from CleanCore, a company that offers aqueous ozone technology, says Prine.

"This is Mother Nature's most powerful oxidizer," says Prine of ozone. "It also has many sanitizing and disinfecting qualities."

The technology fuses microscopic bubbles of ozone gas — called nanobubbles — into pure tap water, says Prine. This process is done on-site and on demand by janitors.

Engineered water — which Prine piloted in 2011 at one of his facilities and now uses for all accounts — appeals to Prine for several reasons. First, his team members like it because it's chemical-free and safer. Although Prine was using traditional chemicals such as glass cleaners, floor cleaners, sanitizers, disinfectants, and so on, he wasn't entirely comfortable with their often-caustic nature or with the occasional complaints team members sometimes had about reactions.

Prine had tried green chemicals in the past, but didn't find them to be as effective as engineered water. Prine especially appreciates the ability to create products when and where he needs them.

"I didn't like how we had to order traditional chemicals from our suppliers on a weekly or monthly basis and have them shipped, stored, managed, and so on," says Prine. "And I didn't like the cost factor of these chemicals and how they ate into profits."

Engineered water appeals to growing numbers of clients who are increasingly concerned over the environmental and health impacts of chemicals, says Prine. And in fact, it was this product that enabled him to attract his hospital client and to also begin doing surgical cleans.

Along with taking on more healthcare accounts, Corporate Caddie is reaching out to K-12 schools, as well as to higher education facilities, recently submitting a proposal to a school system in Omaha, says Prine.
next page of this article:
How Janitors Clean With Aqueous Ozone
Disclaimer: Please note that Facebook comments are posted through Facebook and cannot be approved, edited or declined by CleanLink.com. The opinions expressed in Facebook comments do not necessarily reflect those of CleanLink.com or its staff. To find out more about Facebook commenting please read the Conversation Guidelines.