The Marsden Method
Marsden Holding Sees National Growth
---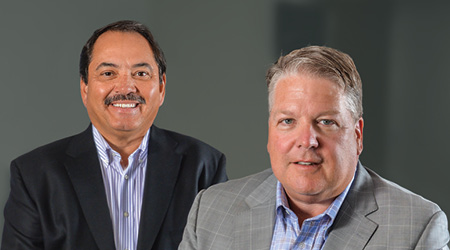 This is part one of a three-part profile of Marsden Holding and its leaders.

When Tom Kruse was looking to sell his contract cleaning company, Scioto Services, back in 2005, he had mentioned it to one of his better customers. Finding the right buyer was more challenging than Kruse had initially expected, so some time had elapsed before the topic came back up. Eventually Kruse and the customer met up for lunch, and the customer asked if Kruse had ever sold Scioto.

"I did," said Kruse. "About three months ago."

The customer had no idea, because his relationship with Scioto hadn't changed in any perceptible way.

That was the intent. That was the Marsden Method. Or, more accurately, that was the Marsden Holding Method.

Marsden Holding, LLC, St. Paul, Minnesota, was founded in 2002 by Guy Mingo, who had just recently been named CEO of Marsden Building Maintenance, a well-known building service contractor in the Twin Cities area. Mingo had risen from a part-time janitor for Marsden Building Maintenance in 1978 to the company's president and a minority partner by 1995.

Under Marsden Building Maintenance founder and original CEO, Skip Marsden, the company had acquired a few other BSCs in the Minneapolis area. But when Mingo succeeded Skip Marsden as the company's top executive, he brought all of these contract cleaning companies under the umbrella of Marsden Holding.

Mingo soon set out to acquire contract cleaning companies outside of the Minnesota-Iowa area in which Marsden Holding already operated. Scioto Services was one of the first.

But what brought Marsden Holding some initial success wasn't it's national mindset. It was rather the opposite — when Marsden Holding acquired a new BSC, it made the strategic decision to leave the local company's name, leadership team, sales staff and frontline workers in place. From a customer's perspective, basically nothing changed. That's how Kruse's top customer had no idea he had sold Scioto to Marsden Holding.

Marsden Holding's motto is "national strength through a hometown team." When Mingo began using his unique acquisition strategy, he recognized that, while Marsden had brand recognition nationally, the businesses he was purchasing had stronger brands in their respective markets.

"Customers know who the local guy is," Mingo told Contracting Profits in 2007.

In fact, there have been a number of cases where Marsden Holding has purchased a company in a market in which it already has a presence, but the newly acquired company has a stronger one. In each of those cases, Mingo moved the existing Marsden company under the name of the newly acquired company.

"It's not a pride thing," says Kruse, who is now Marsden Holding's senior vice president of mergers and acquisitions and strategic support.

Marsden's acquisition strategy was created by Mingo, but it's now championed by Kruse. Since undertaking this acquisition strategy, Marsden Holding has purchased 35 companies; Kruse says he's been involved in 27 or 28 of those transactions. Today Marsden Holding operates 11 companies in 46 states. Under Kruse's direction, it acquires about three to five new BSCs each year, with the acquisition process lasting about four months for each.

With so many moving parts, the strategy is a gamble. But it has paid off because Marsden Holding understands what's important to both the employees and customers of each company it purchases.
next page of this article:
Unique Acquisition Strategy Pays Off For Contract Cleaner