Faces Of The Frontline - Sponsored by ProTeam
Marlene Lash Combines Quality Work With Customer Service
---
BY Jake Meister, Associate Editor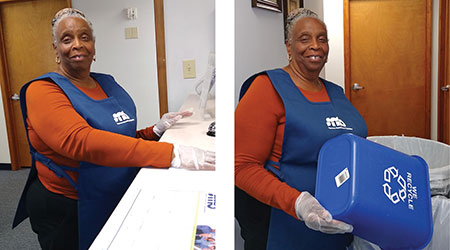 Marlene Lash is more than an employee at Supreme Maintenance Organization (SMO) — she's an icon.
Lash has been working at the Greensboro, North Carolina-based BSC since February of 1995, making her SMO's longest tenured team member. As site supervisor, she is responsible for cleaning several banks, an orthodontic office and SMO's corporate offices. Her team members say she does this work while providing excellent customer service with a great attitude.
Deigh Deaton has been working with Lash for more than 20 years as the financial coordinator for the orthodontic office. She loves all that Lash does for the business and its entire office.
"She is amazing at keeping up with our crazy schedule. We have two locations and we alternate between the two offices each week, but we don't have a set schedule. We never have to fear, Marlene is always at the right location. That is even hard for our own employees to keep straight sometimes," says Deaton. "We feel that Marlene is a part of our family. We love her warm beautiful smile and her great sense of humor. She keeps me rolling."
SMO never has to worry about losing that orthodontic office as a client as long as it has Lash employed.
"We get calls all the time from janitorial companies wanting to give us a quote," says Deaton. "We tell them, 'No way, we love our service and will never change as long as we have our Marlene!' We can't thank Marlene enough for all she does!"
Paula Murphy, a sales assistant at SMO, also thinks highly of Lash.
"I can say that she is the kind person who is always friendly and smiling. She clearly enjoys her work and the relationships she has formed with many of her lasting partners where she cleans," says Murphy. "I daresay she hasn't met a stranger." Outside of SMO, Lash is very active in her church. She serves as manager of a youth mime group, the secretary for her Sunday school department, a bus driver and a church trustee.
Lash also volunteers to feed the homeless and the local police and fire departments on holidays. She most recently spent eight hours on Thanksgiving Day volunteering to feed 1,143 homeless people. Lash also volunteers every year to ring bells for the Salvation Army Red Kettle program during the holidays.
"Marlene is a true treasure," says David Murphy, president of SMO. "I cannot imagine SMO without Marlene. She has been vital to the retention of several of our long-term customers. SMO is truly blessed to have Marlene on the team."
Each month this section will recognize an outstanding frontline janitor. To nominate a deserving employee, email jake.meister@tradepress.com.
Disclaimer: Please note that Facebook comments are posted through Facebook and cannot be approved, edited or declined by CleanLink.com. The opinions expressed in Facebook comments do not necessarily reflect those of CleanLink.com or its staff. To find out more about Facebook commenting please read the Conversation Guidelines.